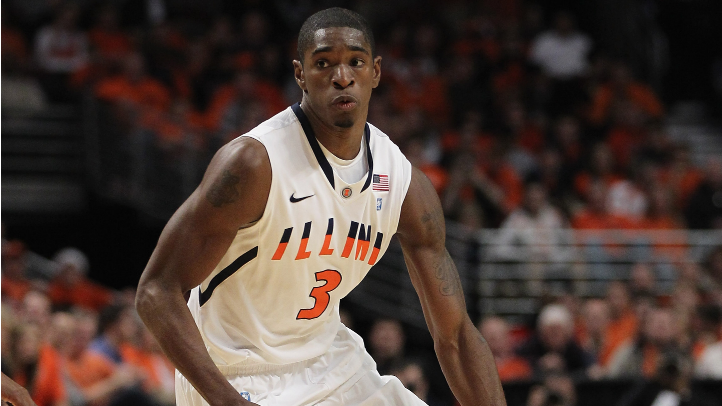 Former University of Illinois guard Brandon Paul was in Chicago last week for the NBA Draft Combine, trying to make an impression with scouts and general managers from all 30 NBA teams. Paul, one of the few seniors at the event, had a solid college career at Illinois.
He didn't necessarily establish himself as a superstar while at Champaign, but he did raise his points per game average, field goal shooting and free-throw percentage every season. The 6-4 guard is ready to take the next steps in his basketball career and he's hoping that step will lead him to an NBA franchise.
"It's a blessing to be able to be at the NBA Draft Combine, and I want to make the most of my opportunity," Paul told Outside Shot. After giving himself a 'B' grade for his performance on the first day of the combine, the Gurnee native gave himself an 'A' on day two.
"I stepped my game up a little bit," he said. "On the first day, I didn't knock down shots that I usually make, but I felt I shot the ball a lot better [on the second day] and I was also trying to be really vocal and get guys involved and on the same page."
Paul will most likely be a shooting guard at the next level but says he also has the ability to play point guard in spots, something he learned while at Illinois.
"I'm a natural scoring two-guard," Paul explained. "I came to college that way, but throughout the last four years, I juggled a couple of different roles because we didn't really have a backup point guard, so I got to run the point which was the best of both worlds."
While at the combine, Paul interviewed with the Los Angeles Lakers and the Los Angeles Clippers, who both will pick later in the draft, and he has more interviews scheduled. But for now, Brandon Paul is just happy to be in this position and on the cusp of living his lifelong dream.
"It's great. I love the game of basketball. I came to the combine and saw all of the coaches and faces of people you recognize on TV and it's just been a blessing," he said. "I just want to continue to move forward and make the most of my opportunities."
Normal 0 false false false EN-US JA X-NONE /* Style Definitions */ table.MsoNormalTable {mso-style-name:"Table Normal"; mso-tstyle-rowband-size:0; mso-tstyle-colband-size:0; mso-style-noshow:yes; mso-style-priority:99; mso-style-parent:""; mso-padding-alt:0in 5.4pt 0in 5.4pt; mso-para-margin:0in; mso-para-margin-bottom:.0001pt; mso-pagination:widow-orphan; font-size:12.0pt; font-family:Cambria; mso-ascii-font-family:Cambria; mso-ascii-theme-font:minor-latin; mso-hansi-font-family:Cambria; mso-hansi-theme-font:minor-latin;} Follow Outside Shot on Twitter (@Outside_Shot) for more Bulls news and information