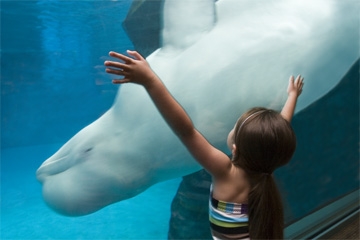 Text is tops for marketers.
At least as far as the Shedd Aquarium is concerned.
This summer the Chicago museum tried out a new trick, to see where their marketing dollars would best be spent. The Shedd ran a series of advertisments plugging its Fantasea contest. Winners of the contest got an all expenses paid trip to the Shedd to see the exhibit.
Most of the ads asked viewers to enter the contest on the web, except for one single ad that asked for text message submission.
The SMS call to action was a major success, generating 325 percent more entries than the Web-based promotion, reported Crain's Chicago Business.
Even though only 25 percent of the ad campaign was directed at mobile phone users, the SMS entries made up 52 percent of the total entries.
"SMS reveals a greater sense of urgency," Jed Alpert, founder of Mobile Commons, the technology company that managed the campaign's SMS piece, told Crain's.
The show will include most of the aquarium's main attractions – dolphins, beluga whales and penguins – ad will take place in the newly enhanced Oceanarium amphitheater.