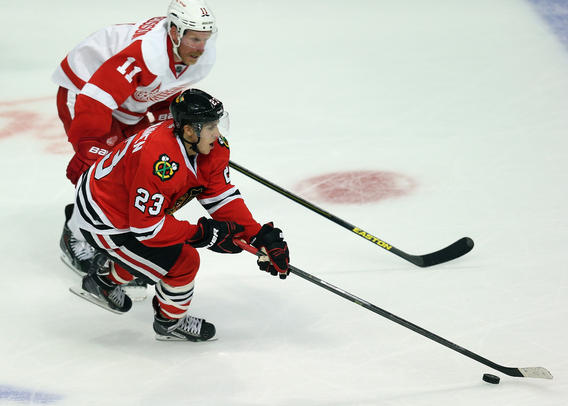 The Chicago Blackhawks may be stumbling a bit after the Olympic break, but they could be poised to get a big shot in the arm.
According to Scott Powers of ESPN Chicago, Teuvo Teravainen is scheduled to get to Chicago by the end of the week, but it isn't clear whether or not he will join the team before the playoffs begin in April. The Blackhawks currently do not have the salary cap space to put Teravainen on the roster according to the website CapGeek, and they would likely have to waive either Sheldon Brookbank or David Rundblad in order to make room for the 19-year old Finnish star:
1/2 Lots of Chicago fans asking how the Blackhawks can add Teuvo Teravainen in the regular season from a salary cap perspective. — CapGeek (@capgeek) March 17, 2014
2/2 The answer is, according to our cap estimates, they can't, not without someone joining Nikolai Khabibulin on LTIR or a demotion. — CapGeek (@capgeek) March 17, 2014
Neither of those players is likely to be sent down until Michal Rozsival recovers from a lower body injury (an ailment that will likely keep him out for a few more games), but even with that caveat in place, there is still plenty of excitement in the organization about Teravainen's skills.
Here's what Quenneville said about Teravainen in an interview with Powers earlier in the month.
"I think it's happened before. But whether you have some kids coming out of junior and can help your organization…you know, young guys that this time of year can give you a little bit of jump, as well."
Quenneville doesn't seem like the type of coach that is going to immediately trust a young player to contribute in a big role on the team, with guys like Brandon Pirri and Jeremy Morin knowing first-hand just how the hook can come from the Hawks' coach if a player doesn't perform up to par. That philosophy could very well change with a player of Teravainen's caliber, but it will be interesting to see what kind of rope Quenneville gives the youngster as the team tries to climb ahead of Colorado in the Central Division standings.