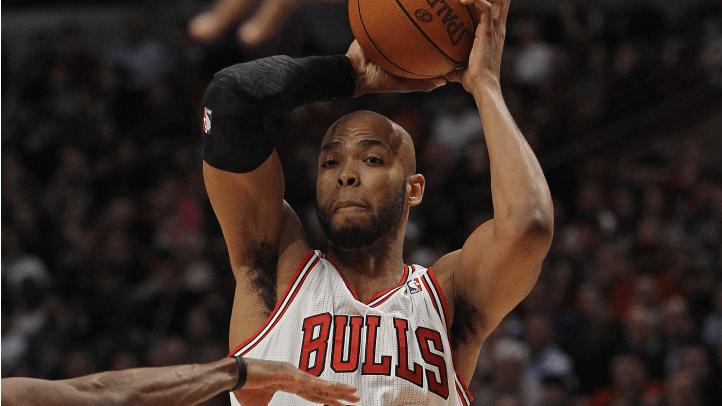 Taj Gibson could not contribute much to Saturday's victory over the New York Knicks. The Bulls reserve power forward was ejected in the second quarter with just 3:40 to go until halftime. An ejection is atypical for the unassuming Gibson who plays with passion, but isn't the type to draw the ire of NBA referees.
"I felt like a real fan watching the game in the back," said Gibson about watching the second half of the game from the locker room."I asked the ref an opinion on a call and then I turned and walked back to the bench. The next thing I knew, he was giving me two 'T's'. I didn't say anything back after that."

The referee who ejected him, Derrick Stafford, is a 24-year veteran in the NBA. Gibson said that he and Stafford actually have a good relationship on the court, so the two quick technical fouls came as a surprise.
"The whole game I was asking him questions because I have a good relationship with Derrick," Gibson said. "I was asking him if I got fouled or not, what I can do better on defense, and that was it. But he "T'd" me, I walked back to the bench then I got the second one and I got kicked out and went to the locker room. I didn't even try and say anything back because what more can I do?"
Taj said that once he got back to the locker room, Rip Hamilton, who missed his third consecutive game with a torn plantar fascia in his left foot, teased him saying that he should've at least said something to the ref after getting disqualified.
"Rip was looking at me laughing like, 'You didn't get your money's worth,at least.' But I just took it and went in the back," he said. "It's cool."
Of course, Tom Thibodeau didn't think the ejection was cool. The coach gave Taj both constructive criticism and advice.
"After the game, Thibs said next time just let him handle it. Let him take the technicals and let him address the refs. There was a lot of blown calls in the game, but to let him handle it and for me to keep playing."
Follow "Outside Shot" on Twitter (@Outside_Shot) for more Bulls news and information.