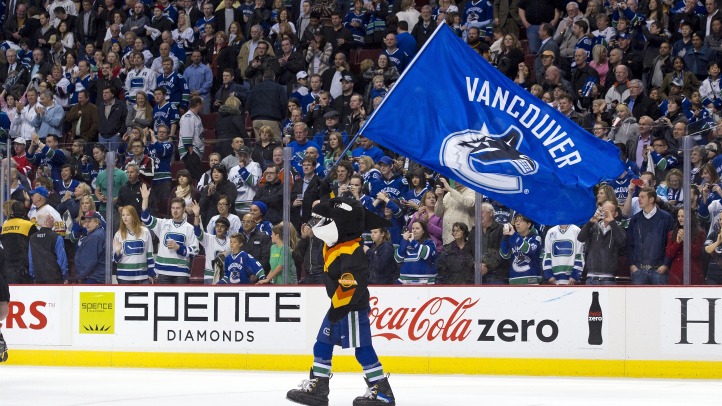 The Blackhawks face the Vancouver Canucks in their first playoff game Wednesday. But the 'Nucks aren't the only competition the Hawks might have to endure.

Here's what else the first round of playoffs have in store:
Eastern Conference
Washington v. New York Rangers: After all the laughing and funning we did about the Caps around the Holiday, they are sitting atop the East once again. This whole season has been focused on being a more solid team, one that's hard to play against and can shut you down defensively. It looks like they've got there, but now is the ultimate test. This is still a team littered with players who couldn't be found by a search party last spring. If they do that again, do the Caps have enough secondary scoring to get through? Can they trust the still young Semyon Varlamov in net?
Luckily, they're facing a Rangers squad that's missing its heart in Ryan Callahan. The blueshirts were short on scoring as it was, and will rely on Henrik Lundqvist, one of the few goalies around who can steal a series by himself. Dan Girardi and Marc Staal make a wonderful top pair, but there's just not enough here to take out the Caps without them collapsing. Not enough scoring, not enough scary defensemen.
Philadelphia v. Buffalo: These two couldn't come in on more different paths. The Flyers have been mediocre to poor since February, either because they had nothing to play for or Chris Pronger was out or both. They lost the top seed in the Conference and almost the division. Maybe they were waiting for the playoffs all along, but can you reverse what has been a six-week rot?

In the Sabres they'll see a team that's been the opposite, as they've been scorching since February. They Sabres' lack of size could be a problem here, but even if Pronger is healthy, the Sabres' proletariat approach to the scoring means he can't deal with everyone. This is what did the Flyers in last year, and if their forwards don't start firing more consistently, this one goes the route.
Boston v. Montreal: Perhaps the only rivalry more bitter than Chicago-Vancouver, this matchup will get even more tasty after Zdeno Chara's hit on Max Pacioretty. It might also see a series where both teams can't combine to score 20 goals total. The Habs wouldn't seem to have the firepower to stay with the B's, but if they can limit the damage done at even-strength and scratch across enough power play goals, this could get tight. If Boston uses its size to pound the Canadiens, they should eventually wilt after a few games. But nothing ever goes as it should between these two.
Pittsburgh v. Tampa: Without Sidney Crosby, the Pens will struggle. Though their record is impressive without Sid and Evgeni Malkin, a lot of that was done in OT or a shootout, two things they won't get here. Still, coach Dan Bylsma has these guys playing their hearts out. Goalie Marc Andre Fleury has been exemplary, and they have a defense that can keep Steven Stamkos and Martin St. Louis at bay. If they do that, the Lightning don't have the secondary scoring or a defense that won't leak goals, and the Pens will stay alive long enough for a WWE-like re-entrance of Sid in the second round.
Western Conference:
San Jose v. LA: Without Anze Kopitar, the Kings are cannon fodder. They were bent over on the last weekend by Anaheim when they could have gotten a higher seeding, and they simply can't score. They can thrash around a lot and hit a lot of people, and if the Sharks turn the puck over a lot, the Kings might be able to dent enough twine to let their plus defense guide them. But that's a long shot, and the Sharks are just playing too well right now. Probably the only sweep or five-game series of the first round.
Detroit v. Phoenix: More interesting than people think. While the Red Wings would like to think Sunday's superlative effort means they're ready to go, they haven't been able to consistently produce that in months. Without Henrik Zetterberg, who looks set to miss at least the first two games and likely the whole thing, it's doubtful they can, especially against a team designed to choke you out. They also don't make mistakes like the Hawks did on Sunday. If the Yotes keep Pavel Datsyuk from killing them, the Wings will be in serious trouble against a team they needed every game to get past last year. The Yotes are better than that now, and the Wings might not be.
Anaheim v. Nashville: The Borg hive collective vs. Planet Hollywood, as the Preds try and ride their faceless collection to the second round for the first time against the Ducks who boast a star-laden, best line in hockey. If Shea Weber and Ryan Suter can keep Ryan Getzlaf, Corey Perry, and Bobby Ryan from going nuts, this goes a long time. But do the Preds have enough scoring? Maybe, maybe not. The Ducks still have Teemu Selanne on the second line, but most of his damage comes on the power play and the Preds don't take a lot of penalties. A true slog awaits.