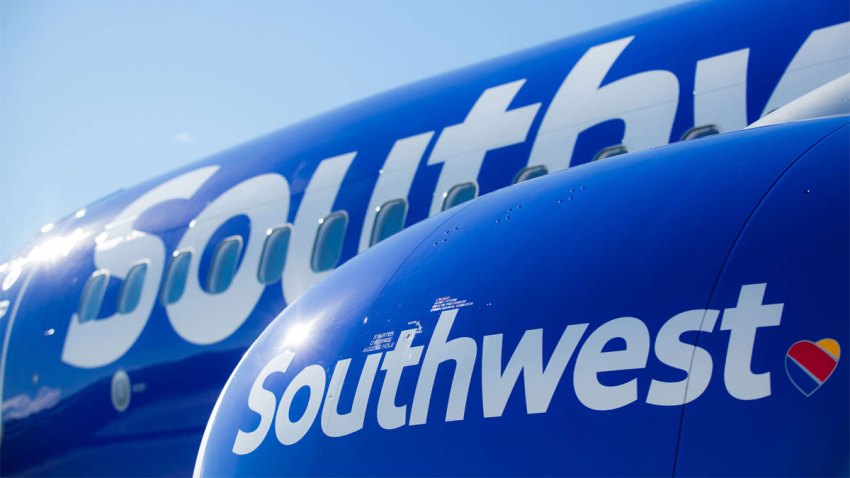 Southwest Airlines has launched a winter fare sale, offering one-way tickets ranging from $49 to $149 to certain locations around the country.
The winter fare sale, which started Tuesday morning, goes until 11:59 p.m. Thursday. The discounted fares includes flights from Dec. 3 through Dec. 17 and Jan. 6 through Feb. 11, 2015.
Destinations involved in the sale include Los Angeles, Philadelphia, Seattle, Tampa and Washington, D.C., among many others.
Here are the flight offers from Chicago's Midway Airport, according to Southwest.com:
To Albany, NY starting at $99 one-way
To Albuquerque, NM starting at $129 one-way
To Atlanta, GA starting at $99 one-way
To Austin, TX starting at $99 one-way
To Baltimore/Washington, MD starting at $99 one-way
To Birmingham, AL starting at $99 one-way
To Boston Logan, MA starting at $99 one-way
To Charlotte, NC starting at $99 one-way
To Cleveland, OH starting at $49 one-way
To Columbus, OH starting at $49 one-way
To Dallas (Love Field), TX starting at $99 one-way
To Denver, CO starting at $99 one-way
To Des Moines, IA starting at $49 one-way
To Detroit, MI starting at $49 one-way
To Ft. Lauderdale, FL starting at $129 one-way
To Ft. Myers, FL starting at $129 one-way
To Hartford, CT starting at $99 one-way
To Houston (Hobby), TX starting at $99 one-way
To Jacksonville, FL starting at $99 one-way
To Kansas City, MO starting at $49 one-way
To Las Vegas, NV starting at $129 one-way
To Little Rock, AR starting at $99 one-way
To Los Angeles, CA starting at $129 one-way
To Louisville, KY starting at $49 one-way
To Manchester, NH starting at $99 one-way
To Memphis, TN starting at $49 one-way
To Minneapolis/St. Paul (Terminal 2), MN starting at $49 one-way
To Newark, NJ starting at $99 one-way
To New Orleans, LA starting at $99 one-way
To New York (LaGuardia), NY starting at $99 one-way
To Omaha, NE starting at $49 one-way
To Ontario/LA, CA starting at $129 one-way
To Orlando, FL starting at $99 one-way
To Philadelphia, PA starting at $99 one-way
To Phoenix, AZ starting at $129 one-way
To Pittsburgh, PA starting at $49 one-way
To Portland, OR starting at $149 one-way
To Providence, RI starting at $99 one-way
To Raleigh/Durham, NC starting at $99 one-way
To Rochester, NY starting at $99 one-way
To Sacramento, CA starting at $149 one-way
To San Antonio, TX starting at $99 one-way
To San Diego, CA starting at $149 one-way
To Seattle/Tacoma, WA starting at $149 one-way
To St. Louis, MO starting at $49 one-way
To Tampa, FL starting at $99 one-way
To Tulsa, OK starting at $99 one-way
To Washington (Dulles), DC starting at $99 one-way
To Washington (Reagan National), DC starting at $99 one-way