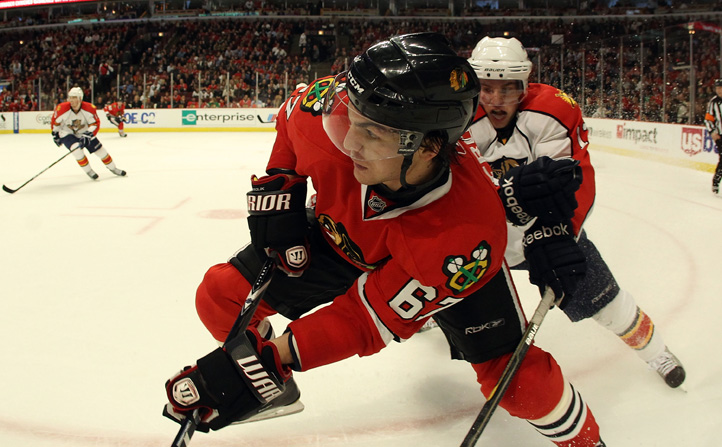 Michael Frolik was probably up against it from the moment he got here. The GM said he was brought here to play center, the coach said he'd play everywhere, and Frolik reacted to playing center as if he'd been asked to take the SATs.
He hadn't played center at Florida. He also came mired in a season long goal dysfunction, after two 21-goal seasons. Sadly, that didn't disappate when he got here. He was shoehorned into center because of injuries, chewed up and spit out in the Joel Quenneville Line Generator, and struggled to get his feet on the ground.
Then came the end of the season, and being stationed on Dave Bolland's wing. He opened the scoring in the final game against Detroit. He and Bolland tore apart Vancouver in Game 4. He scored a goal that was simply a test of testicular fortitude on a penalty shot in Game 6 that the Hawks had to have. He showed a two-way game. He kept getting crushed to the point where he was physically melding with the ice and kept getting up for more. It made Hawks fans take notice.
So it was with a general applause that Fro was re-signed this summer. It wasn't easy, but they got him in at a decently fair market price. And now it's just a matter of figuring out where Frolik goes, and what he's capable of.
Frolik will start on Bolland's wing, we know that. It's been speculated that he could break out for 30 goals this year. That's unlikely to me. On that line, Frolik is going to draw the toughest defensive assignment, which will curb his offense. But that doesn't mean he won't score. He's more than capable of surpassing the 21 goals he potted in Florida, especially if Bolland busts out. The upshot of playing against the other team's offensive threats is that, most of the time, when you get them in their own zone they pretty much treat it like booster shots. Frolik and Bolland could run wild in that scenario.
Further hampering his goal totals is it's unlikely that he'll get much power play time. Toews, Kane, Sharp, Hossa, and Bolland are all going to get their share, as is Andrew Brunette most likely. That's six forwards for six slots. If Sharp slides back to a point, maybe a spot opens up for him, but he won't have it all year. He could be a big threat on the penalty kill with his speed and hands. But who knows if Fro is trusted by the coaches enough to kill penalties.
But all this adds up to a very useful player who can help shut down opponents while threatening them at the same time. Should injuries hit, Frolik can fill in on the top lines. What's the word the Hawks love so much? Versatility. Frolik embodies that.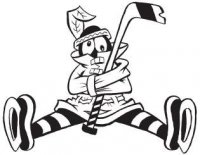 Sam Fels is the proprietor of The Committed Indian, an unofficial program for the Blackhawks. You may have seen him hocking the magazine outside the United Center at Gate 3. The program is also available for purchase online. Fels is a lifelong 'Hawks fan and he also writes for Second City Hockey .