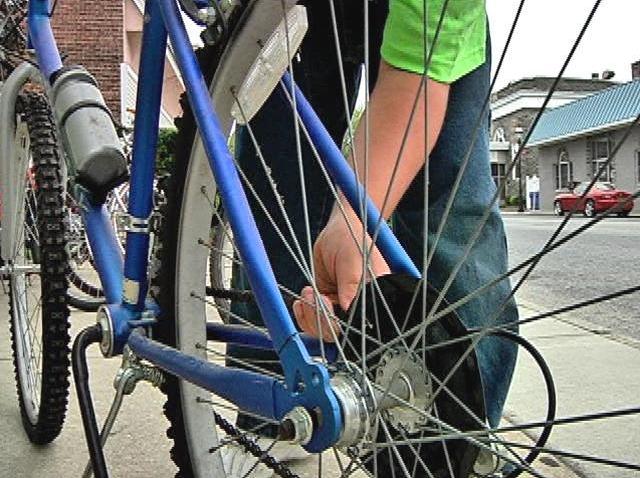 Don't throw it out! That old pair of figure skates collecting dust in the corner of your garage is still valuable.
Play It Again Sports at 3939 N. Ashland sells new and used equipment. You can bring in your old sporting stuff and leave with cash in your pocket.
"It has value," store owner Charles Kaminsky says. "Bring it in!"
A customer brings in their old equipment and the store attaches a value to that equipment. Customers can chose to receive store credit, cash or put the item on consignment. Store credit is typically 45-percent of the assigned value. The consignment price is around 40-percent of the value. The cash value is determined by supply, demand and season. If you join the Play It Again Sports membership club, those percentage values increase.
"It's a great way to save money for future purchases," Kaminsky says. "You can do something with the family you could not do before, because you're leaving with money in your pocket."
Vernon Hills mom Tina Sernett had a different idea. Sernett has two athletic daughters and she watched the equipment gather in her garage.
"I looked at it and thought there's got be some kids that can use this," Sernett says.
Sernett took that thought and created The Sports Shed. It's a not-for-profit organization that donates equipment to groups like Girls in the Game and the Boys and Girls Club of Lake County. Sernett first started working with "Girls in the Game" and brought their triathlon team swim goggles this year. "I've never seen them get out of the locker room so fast to get changed for the triathlon! They knew we had goggles and whoever gets out first, gets to pick the first pair. It was motivating." Jenika Faes of Girls in the Game says. "It made their whole summer!"
Sernett placed one bin at Sports 11, a popular sporting goods store in Libertyville, and another at the Vernon Hills Park District and they quickly filled up. "There's a collection bin in our facility," says Tom Ritter, the Director of Recreation at the Vernon Hills Park District, "and I'd say once a week there's a call to Tina to collect it." Sernett stores all of the equipment in a rented warehouse in Vernon Hills.
Thousands of pieces of sporting equipment have already been donated in the last six months. Local companies have also held fundraisers to help purchase hundreds of pieces of new sporting equipment.
Sernett took some of the donated baseball equipment to Chicago's LYDIA Home Association on the Northside. 40 children, who are wards of the state, live in the building. Childcare worker Germaine Long, also a former ward of the state, plans on introducing the children to baseball with Tina's latest delivery.
Before Tina's visit, the kids had never played baseball before. Long says sports helps the children deal with anger issues and helps build patience. "
Baseball helps you with patience. When you are in this predicament, you have to have patience," Long says.
Dave Anderson, LYDIA Home's executive director, says the equipment Tina brings helps the children build self-identity and self-esteem.
Like LYDIA home, the Boys and Girls Club of Lake County also faced budget cuts this year. Sernett brought over used basketball jerseys and new basketballs, so the children could form teams. Sernett admits that it is a lot of work, but she says the emotional payoff makes all the work worthwhile.
"Some days when I'm doing all the behind the scenes stuff, I wonder why I am I doing this," Sernett says. "But every time when I make a drop-off, it really makes me want to keep doing this."
Sernett says The Sports Shed's needs basketballs and soccer balls the most, but they also get a lot of requests for playground equipment and playground games like dodge ball. She is also looking for an even larger space to store all of the donated items.
To learn more about The Sports Shed and how you can help, visit their website, email thesportsshed@gmail.com or call 847-791-7320. Sernett has collection bins at the Vernon Hills Park District, 635 Aspen Drive, and Sports 11, 838 S. Milwaukee Avenue in Libertyville.