In a frightening moment that has many residents concerned, an apparent sinkhole opened up inside a suburban garage.
Barrington village officials say the owners of a home in the 300 block of Fox Hunt Trail called 911 after hearing a loud banging sound in their garage.
When they went to see what it was, they said it appeared a hole had started swallowing their two cars.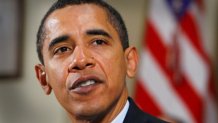 "From what I can see it's not the kind of sinkhole we've been seeing in Florida where there is cave-in around the house and the house is actually falling into the hole," said local builder Rick Peters, of Wellington Homes.
Following the collapse, the village restricted access to the garage, and later tagged the entire dwelling "uninhabitable" because officials feared a similar collapse could happen in the basement of the nearly 50-year-old home.
"It was alarming," said Barrington resident Michele Polvere. "It was very alarming. I was just happy that I heard right from the beginning that nobody was hurt."
Still, Peters said the hole may have been caused by something else.
"It looks like this slab collapsed in the middle so it looks like there is more of a just a back fill excavation problem here because a sinkhole you would see it around the house," he said.
The village echoed that sentiment, saying they believe the home may have foundation issues.
The homeowner will have a structural engineer check the home and the village is encouraging other residents to do the same.