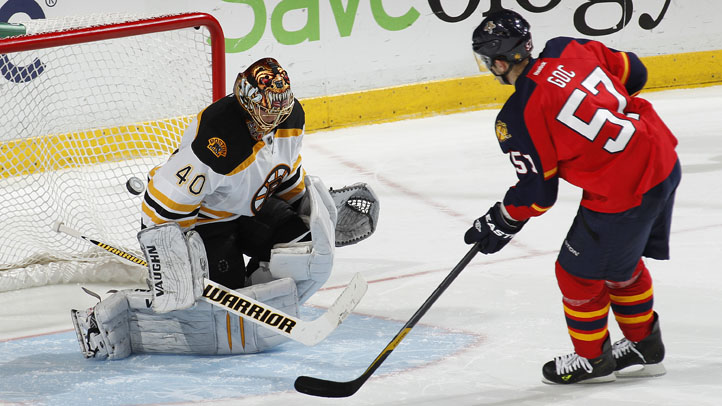 Well, won't this be a fuzzy occasion for everyone?
The Hawks host the Florida Panthers tonight, the team who carries no less than five former Hawks on their roster, as well as the GM who brought them all to Chicago and Florida. Needless to say, the barbs that will be flying on the ice should be quite the entertainment.
Surprisingly, the Cats come in tied for first in their division. First in the worst division in hockey by a $60 cab ride, but first is first. Someone has to win it, right? It's surprising considering how this team was thrown together over the summer and even the early part of the season. 14 of the 23 on the roster were acquisitions this season, and it was hard to fathom that they could gel so quickly to be successful.
But they have, and a lot of it has to do with two former Hawks. Kris Versteeg is getting the top line minutes he's always craved, and is leading the Panthers in scoring while prepared to scorch his career hgh in all categories. Steeger was always gifted offensively, but when he was here and Toronto and Philadelphia had to keep that in check somewhat to serve on lower, checking lines. Not the case in South Florida, as they've asked him to let it all hang out, including his hair. Brian Campbell has been a steadying force on the blue line, a leader in the room, and a solid d-man in all situations. He's second in the league in scoring from the backend and has QBed a very effective power play. He's killing penalties well again, too. Florida has gotten solid goaltending from three guys, which has kept them in games where their better than expected offense has gotten them points.
It's more than a two-man team, though. Tomas Fleischmann, Versteeg's linemate, is a tricky player himself. That line is centered by Stephen Weiss, who must go into convulsions of delirium now that he has actual talent to match his surrounding him.
The Panthers have scuffled lately, going 3-4-3 in their last 10. The top line isn't scoring, their starting goaltender in Jose Theodore was hurt, and they've been beat up in other areas. They get a host of players back tonight or in the next couple games.
This should be fun for those who can brave the storm and get in the building, because it should be a track meet. The Panthers aren't much interested in congesting the neutral zone, and they want their d to get just as active as the Hawks do. Should be very up and down. But the Hawks have more scoring depth than the Cats, so as long as they don't totally shirk their defense, they should come out all right.