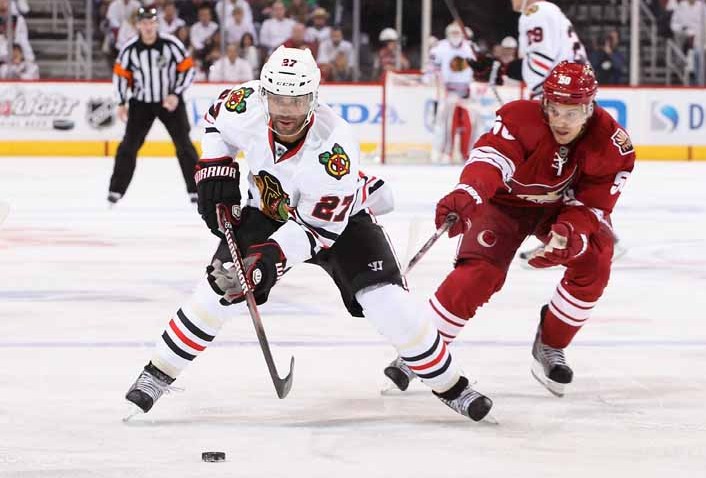 While a lot of the talk surrounding the Chicago Blackhawks in recent days has been how they will clear out salary cap room to fit in new extensions for Patrick Kane and Jonathan Toews, the question of how they will ice a team that's cap compliant when the season opens in October remains one that needs to be answered.
In that vein, Sportsnet's John Shannon, speaking on the radio Friday morning, said that Blackhawks defenseman Johnny Oduya is somebody that's potentially on the block:
"I keep hearing Johnny Oduya's name. I keep hearing they're going to find a way to move Johnny Oduya and get rid of the dollars he makes, and do it with minimum dollars on that five, six, seven defenseman position."
Speculation has been rampant in recent weeks that Oduya would be a candidate to move, and his $3.4 million salary cap hit coming off the books would obviously help the Hawks get below the cap ceiling, which they currently exceed by about $2.2 million. The Swedish-born defenseman does have some great chemistry with Niklas Hjalmarsson on the second defensive pairing, and head coach Joel Quenneville frequently used the duo in the team's toughest defensive matchups, but some sacrifices have to be made when it comes to making the numbers work financially.
If Oduya ends up getting traded then, the question becomes one of how the team would look on the ice. The most obvious choice would be to pair Hjalmarsson up with a guy like Michal Rozsival, who would bring veteran knowhow and a more traditional right-handed shot to pair with the left-handed shooting Hjalmarsson, but Nick Leddy could also get bumped up to provide some offensive punch on the pairing. Quenneville seems hesitant to use Leddy in defensive situations however, and that could complicate things if the team wanted to bump him up to the top four blue liners.
Outside of Leddy and Rozsival, several youngsters could potentially get a shot to replace Oduya. David Rundblad, who was brought over from the Arizona Coyotes in a trade deadline swap, is one candidate, as are rookies Klas Dahlbeck, Stephen Johns, and Adam Clendening. Dahlbeck has a great blend of offensive instincts and defensive skill, and he could be a good replacement. Johns is more of a bruising physical force, but his right-handed shot and ability to stay back while his teammates jump up on the rush could be appealing. Clendening would be more of an unconventional choice, with his game more closely mirroring Leddy's than Oduya's.
Ultimately though, the question won't have an easy answer if the team decides to send Oduya packing. His cap hit is reasonable enough to net a decent return if the Hawks have to cut him loose, but replacing him is a whole other matter. This team is still in a position where they can compete for a Stanley Cup even without him, but it definitely doesn't make the path any easier.