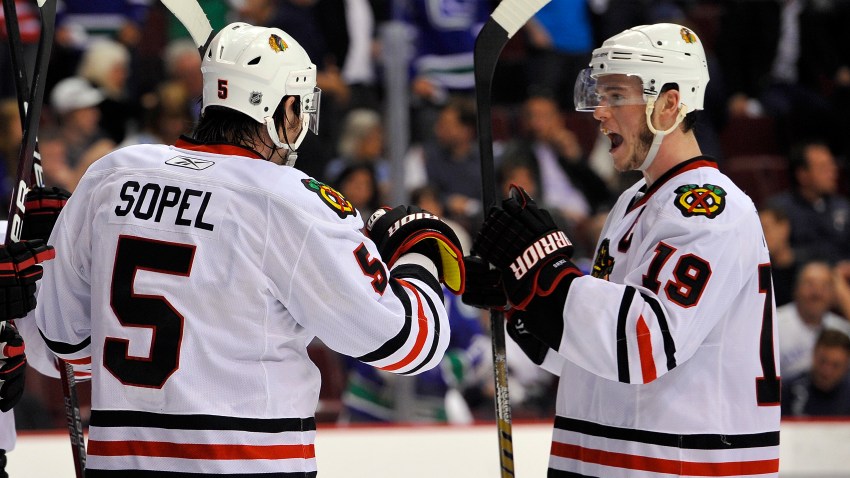 For any news outlet worth its salt, a big-time event like the Stanley Cup Final merits bringing out the big guns, and in Madhouse Enforcer's case, it feels right to call upon the sports experts at NBC Chicago for help in answering a simple question:
What is the single biggest key, in your eyes, to the Chicago Blackhawks beating the Boston Bruins and winning their second Stanley Cup championship in four seasons?
Here is what the crew had to say:
Laurence Holmes (@LaurenceWHolmes on Twitter), NBC Sports Sunday Co-host, and 670 The Score Evening Host:
"What I've been impressed by all year is the depth of the Hawks. They can roll four lines out there and get production. Their defensive core is deep, as evidenced by the Game 4 win against the Kings.

"What's been amazing is how they haven't necessarily needed their stars to carry them. Look at the emergence of Bryan Bickell as an example. That depth and variety of scoring options is what makes them dangerous."
Peggy Kusinski (@PeggyKusinski), NBC Chicago sports anchor, Postgame Interview Czar
"I could say that the "stars need to come out", the hot goaltender may win it all, the depth of the third and fourth lines, or the defense standing tall….but in the end, I believe the more consistent team that makes the fewest mistakes will be drinking from Lord Stanley's Cup.
Brent Sopel (@BrentSopel), Sports Sunday contributor, member of the Blackhawks' 2010 Cup-winning team
"Can the Hawks handle the size and physical style of play of Boston? The special teams will be huge too, and goaltending will be a major area as well."
The wide variety of answers from these three members of the NBC Chicago sports team point to a singular theme of the series: both of these teams excel in various areas, and there are a lot more things to look at than just one particular battle. Whether it's goaltending, as Brent and Peggy both mentioned, or depth, as Laurence pointed to, this series will be determined by whichever team can excel in all areas, not just specific ones.
What are your thoughts on our experts' keys, Hawks fans?