A fast-moving clipper system on Tuesday morning continued its trek eastward after dropping several inches of new snow on Chicago.
The snowfall was heaviest in areas south of the city. At 4 a.m., Peotone checked in with 3.3 inches of snow, Midway International Airport recorded 2.3 inches, and downtown Chicago had 1.2 inches. O'Hare International Airport recorded 1.8 inches of snow.

But even as cleanup began in single-digit temperatures, Chicagoans were preparing for Mother Nature's next threat: a high-pressure system from Canada that'll move in Wednesday that could send wind chill values down to -40.
National Weather Service forecasters issued a Wind Chill Warning beginning at midnight Wednesday and lasting until midday Thurdsday.
The latest round of snow came after a significant drop in temperatures Monday.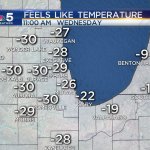 A Wind Chill Advisory for for the NBC Chicago viewing area began at midnight Monday and was in effect until noon. Air temperatures at 5 a.m. were in the single digits below zero or just above, but a sustained breeze of about 10 MPH sent wind chill values to -15 to -25 degrees.

Though it was biting cold, the morning was without precipitation that could have hampered the commute to work and school.
Chicago's First Snow of 2015
This time last year, Chicago was entering a polar vortex where temperatures dropped into the negative teens with wind chills as low as -40 degrees. This week's weather is not anticipated to be as extreme, but we will see the coldest temperatures yet in this winter season.
Sunday afternoon saw snow accumulations of about 3 inches as well as rapidly dropping temperatures.
As a result of Sunday's snow, more than 235 flights out of O'Hare International Airport were canceled, and the rest of the flights were experiencing delays of up to an hour. More than 30 flights were delayed at Midway International Airport as well.

A spokesperson with Chicago's Department of Water Management said Monday morning's cold temperatures hampered efforts to put out a garage fire on the 8200 block of South Fairfield Avenue.
18 Images of Chicago Summer to Warm You Up