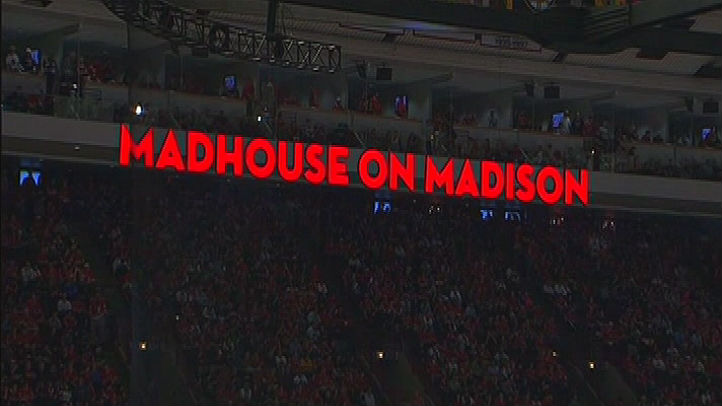 In recent years, the United Center has regained the right to call itself the "Madhouse on Madison". Between the Chicago Blackhawks drafting Jonathan Toews and Patrick Kane, as well as winning two Stanley Cup titles, and the Chicago Bulls drafting Derrick Rose, the two tenants of the building have given fans plenty to cheer about.
During a recent reconstruction of the arena, several bars with seating overlooking the playing surfaces were added to the corners of the building, and a large sign reading "Welcome to the Madhouse" was erected along the sides of the seating bowl. The signs became a favorite cutaway shot for producers at Comcast Sportsnet and WGN, and were familiar sights to Hawks and Bulls fans alike.
Now, those signs have been removed in favor of new LED signs. The reaction was mixed among fans of the Hawks:
Excuse me why was the madhouse on Madison sign removed..? — Corey Steinert (@Corey_Steinert) August 7, 2013
A lot of people are upset about the Madhouse signed being taken down. What's the big deal? We know its still the madhouse... — Duncan Keith's Teeth (@DuncanTeeth) August 7, 2013
Bad idea. "@NinaFalcone: Goodbye for now, 'Madhouse on Madison' http://t.co/a6RgNbimAy" — Tim Sassone (@TimSassone) August 6, 2013
Greg Boysen of Second City Hockey put it slighty less succinctly than those tweets, but was just about spot on:
"Most of the people who are upset probably never even stepped foot into the Chicago Stadium. When you go to Hawks games these days the arena is filled with fans who weren't even born when the "Old Barn" was in its heyday. Even the loudest National Anthem during the playoffs, at the United Center, cannot carry the Stadium's jock when it comes to noise and spirit. The rabid fans at the Chicago Stadium brought the Hawks a true home ice advantage."
Much like when the Chicago White Sox built a new stadium and kept the name Comiskey Park, there will always be fans who feel slightly disingenious about taking the moniker for the old building and affixing it to the new one, and with good reason.
The signs themselves, however, were only four years old, so it isn't like some "tradition" has been eradicated here. It's simply an effort by United Center officials (for the record, the building is owned in a 50-50 split by the Bulls and Blackhawks) to monetize an element of the stadium, and it's hard to fault them for that, especially considering that United Airlines' naming rights deal is about to come to an end, and the teams will want to give a new company extra incentive to purchase those rights.
Still though, we want to hear from you, Hawks fans. What do you think of the decision to remove the signs?
Author's Note: No, we will not be changing the name of this blog. "United Center Enforcer" doesn't have quite the same ring to it.