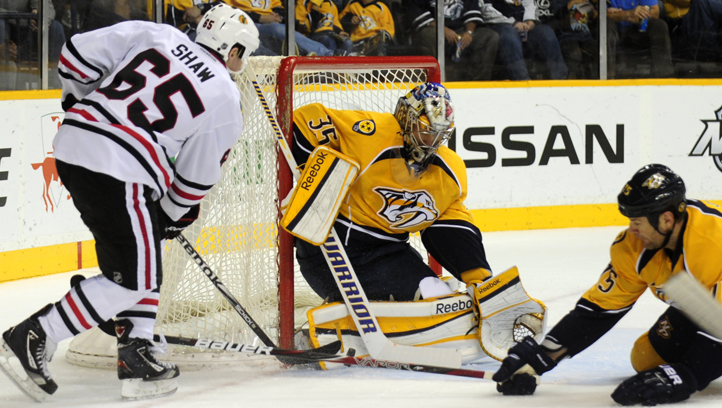 The NHL is hitting the midpoint of its season (it's hard to believe the season is already half-over) this week, and with 41 games or so still to go, there are still plenty of storylines that still have to play themselves out.
Even with all of that time still to go in the season, we thought it would be fun to hand out some hardware for the midway point of the season. Which player has been the MVP so far? Which coach has done a better job of making something out of nothing? Check out our picks and feel free to give us everlasting praise if we got it right, and feel free to slam us into oblivion if we've offended your hockey sensibilities.
Hart (League MVP): Ryan Getzlaf, Anaheim Ducks
This was a tough call, as it always is, but we ended up choosing Getzlaf. He's had plenty of turnover among his linemates this season, but he's still got 45 points on the year, and the Ducks are still in the driver's seat for the President's Trophy. Patrick Kane of the Chicago Blackhawks has a good case, as do Tyler Seguin of the Dallas Stars and Evgeni Malkin of the Pittsburgh Penguins, but Getzlaf still gets the nod for us.
Vezina (Best Goaltender): Pekka Rinne, Nashville Predators
If you're offended by their mustard yellow jerseys, we'd advise you to turn away now, because they're about to get a ton of love on this list. Rinne has played in 34 games so far for the Predators, and just a season after dealing with injury issues throughout the year, he's been an absolute dynamo. He has a sparkling 2.00 GAA and an excellent .929 save percentage. He also has three shutouts on the year, and his 26-6-2 record is simply icing on the cake. Guys like Marc-Andre Fleury and Braden Holtby have compelling cases, but as of right now it's Rinne.
Norris (Best Defenseman): Mark Giordano, Calgary Flames
This is probably the biggest blowout in any of the awards so far. Always known for his stellar defense, Giordano has been an absolute monster on the offensive side of things as well this season, with 10 goals and 25 assists for the Flames in 41 games. The only thing that could hurt his candidacy is that the Flames aren't the greatest of teams around him, and his numbers could suffer if they take a step backwards as the season wears on. If that's the case, then guys like P.K. Subban, John Carlson, and Duncan Keith could force their way back into the conversation.
Calder (Rookie of the Year): Filip Forsberg, Nashville Predators
As of this point, the Calder race is almost as big a blowout as the Norris, with Forsberg absolutely torching the field. He has 14 goals and 24 assists for the Predators, and he's helped take a team that's always been known for their emphasis on defense and turned them into a potent offensive force. It will be interesting to see how he continues to adjust as the league gets more tape on him, but he does have one thing working in his favor: he doesn't have to play the Blackhawks again.
Jack Adams (Best Coach): Peter Laviolette, Nashville Predators
This is an insanely tight race, with two really deserving coaches battling for the spot. Laviolette gets the narrow edge for us, simply by virtue of having to play against the really tough and talented Central Division, but don't sleep on Jack Capuano, who has done marvelous work with the New York Islanders. That team has the potential to make some serious noise in the Eastern Conference, and with a solid goaltender in Evgeni Nabakov and a gifted young leader in John Tavares, they could very well be a Stanley Cup contender when all is said and done.