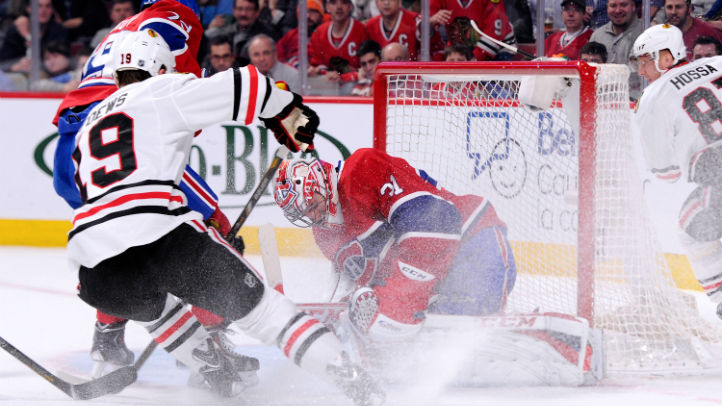 Every week, Madhouse Enforcer will take a look around the Central Division and let you know who's hot and who's not in our little corner of the hockey world.
1 (Last Week's Rank: 1): St. Louis Blues
The Blues continue to roll at the top of our rankings, despite still being in second place in the Central Division. They are 8-1-1 in their last 10 games, and are still playing great hockey despite not having their leading scorer in their lineup.
That's about to change though, as Alex Steen is practicing with the team and preparing for a return at some point in the near future. The Blues have a three-game home stand this week, and they are going to need to enjoy every game at Scottrade Center that they can, because after the Olympic break, their schedule becomes incredibly road heavy, with 11 of their first 15 games out of the break being played away from home.
2 (Last Week's Rank: 2): Chicago Blackhawks
The Blackhawks were able to break their three-game losing streak on Sunday with a nice win over the Edmonton Oilers, but there are still areas of concern. Head coach Joel Quenneville can't quite get his lineup right. Patrick Kane is struggling after a lengthy hot streak. The team's penalty killing unit is still abysmally bad too.
Making matters a bit more challenging for the Hawks is their tough upcoming schedule, with games against the Avalanche, Ducks, and Bruins all looming this week. Though all of those games are at home, those are three great teams coming through the United Center, and the Hawks will have to be at the top of their game to avoid another losing streak.
3 (Last Week's Rank: 3): Colorado Avalanche
At this point, it's hard to dismiss the Avalanche as a flash in the pan, as they are firmly entrenched in a playoff spot and have loads of talent all over their lineup. Paul Stastny has made a huge resurgence in recent weeks, picking up two goals and five assists in his last four games for Colorado.
Unfortunately for the Avs, Stastny will be a bit hobbled after leaving Saturday's game with a leg injury. He is not expected to miss any time, but if his speed is compromised at all, it definitely hurts the flow of the Colorado offense.
4 (Last Week's Rank: 5): Minnesota Wild
The Wild were pretty much left for dead by many publications (okay, we did it too), but they have reeled off five wins in their last six games and are launching themselves back into playoff contention despite not having Zach Parise, Mikko Koivu, or Josh Harding in their lineup.
Fortunately for them, guys like Charlie Coyle, who has six points in his last seven games, have really stepped up for them, and their penalty killing unit has as well, killing off 15 of the last 16 power plalys they've faced. Also helping is the ease of their current schedule, which will see them welcome the Senators, Oilers, and Stars to Xcel Energy Center this week.
5 (Last Week's Rank: 4): Dallas Stars
We picked the Stars to make the playoffs this season, and after a nice run of hockey, it appeared that they were going to validate our confidence. Unfortunately, the bottom has now fallen out for Dallas, as they have lost six straight games by a combined score of 26-12, and really aren't getting solid production from anyone in their lineup.
If Dallas is going to get their game in gear, then they are going to need to do it soon. After a home-heavy schedule through the rest of January, they are going to head out on a three game jaunt in early February through Anaheim, Phoenix, and San Jose, and that kind of trip is one where a team would be lucky to get two points. Time is of the essence for the Stars, to say the least.
6 (Last Week's Rank: 7): Nashville Predators
Oh, those perplexing Predators. Injuries and bad vibes have seemingly taken their toll on the Music City denizens, as they have dropped six of their last seven games, including three in a row on home ice. Marek Mazanec and Carter Hutton are taking turns dropping the ball in the crease for the Predators, and not even Shea Weber has been able to cure what ails this club.
Given all of that, it's hard to imagine that GM David Poile hasn't at least given some thought to letting Barry Trotz go. Granted, the man has been the head coach of the Predators for their entire existence, and it isn't his fault that injuries and a woefully bad offensive roster have conspired against him, but it's a lot easier to change a coach and a system than to get rid of 20 players, so he might have his head on the chopping block before long.
7 (Last Week's Rank: 6): Winnipeg Jets
It's going to be a relatively quiet week ahead for the Jets as they only have two games on the docket, with a road game against the Flames and a home tilt against the Oilers upcoming. Where it hasn't been quiet though has been behind the bench, as the team let go of head coach Claude Noel on Sunday and replaced him with former Carolina Hurricanes boss Paul Maurice.
Maurice's debut went according to plan on Monday, as the Jets knocked off the Phoenix Coyotes in an easy 5-1 victory. The crowd gave Maurice a standing ovation during the third period of the game as the Jets were in the process of outshooting the Coyotes 38-19, and even though all the victory did was snap a five game losing streak, it was still a positive sign for an organization in desperate need of one at the moment.