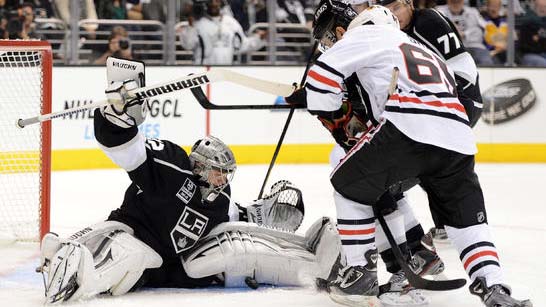 The Chicago Blackhawks began their season in Los Angeles by watching the Kings hoist their 2012 Stanley Cup championship banner to the rafters of the Staples Center. Fans may not have realized it thanks to the 5-2 beating the Hawks laid on the Kings, but those two teams that met on that glorious day the NHL lockout officially became a thing of the past would meet again in June to decide which of them was best in the Western Conference.
Of course, to those who have watched a good deal of hockey this season, this matchup isn't all that surprising. The Kings started out the season slow but wrapped it up on a good note, with a game marked by a fair amount of physicality, a dash of offensive talent and a man in Jonathan Quick who has established himself as the very best goaltender in the NHL.
Meanwhile, the Blackhawks were the best team in the league during the regular season, utilizing an offensive style predicated on puck possession and rapid movement and a defense that is as deep as anyone's.
It seems appropriate that these two teams would meet in the conference finals then. The battle between offense and goaltending is always one that has the potential of generating a truly classic series, and with two of the past three Stanley Cup champions doing battle, this one has all the makings of it.
Those quick to dismiss either team's chances due to perceived flaws (the Hawks' lack of size, the Kings' lackluster offense) are going to be in for a bit of disappointment when the series begins, however. Despite the difference in seeding, the talent level on the two clubs is nearly identical, and both teams play to their strengths in a big way.
The Kings play an aggressive style of defense, attacking puck carriers in the offensive zone and expecting Quick to take care of any stragglers. That style works for them because of weapons like Drew Doughty and Slava Voynov on the blue line, and when they're executing properly, they are a treat to watch.
With the Hawks, they may not be the team that can bang bodies with the best of them, but they proved in their series against the Detroit Red Wings that they are capable of adjusting their play when it is necessary to do so. Their ability to stretch defenses can be a nightmare for a team that doesn't have a lot of speed, and while that advantage is minimized a bit by the rock-steady Quick, it still poses a problem for a Kings team that had difficulty in putting away another offensive juggernaut in the San Jose Sharks.
When these two teams drop the puck on the series over the weekend, fans are going to get a taste of what the playoffs are all about: two teams that play contrasting styles doing battle to see which is superior.
It should be a fun one.
For those that missed it, here is the schedule for the series (all times are Central):
Game 1: 6/1 vs. LA 4pm (NBCSN0

Game 2: 6/2 vs. LA 7pm (NBCSN)

Game 3: 6/4 at LA 8pm (NBCSN)

Game 4: 6/6 at LA 8pm (NBCSN)

Game 5 (if necessary): 6/8 vs. LA 7pm (NBC)

Game 6 (if necessary): 6/10 at LA 8pm (NBCSN)

Game 7 (if necessary): 6/12 vs. LA TBA (NBCSN)