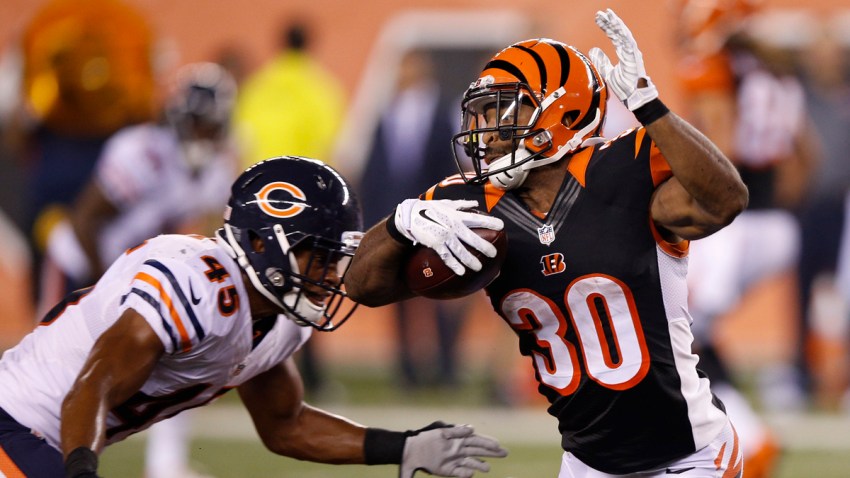 The Chicago Bears struggled in just about every area of the game in their 21-10 loss to the Cincinnati Bengals on Saturday night, and to help break down the carnage, we present our first report card of the season.
Offense: C+
It's tough to give an appropriate grade in this area due to numerous factors, including injuries to just about every good receiver on the depth chart and the fact that offensive coordinator Adam Gase put out a very vanilla scheme as a result, but we're going with a C+ because of one key component: bad blocking.
The Bears have some serious questions at both tackle spots after three preseason games, with Jermon Bushrod looking like he's lost a step at left tackle and Charles Leno Jr. getting beaten off the snap on numerous occasions last night. He was given every opportunity to usurp Jordan Mills as the starting right tackle, but if we're judging based solely on preseason reps, it seems highly unlikely that Leno has grabbed this job.
There were a few bright spots, including Martellus Bennett's strong performance (he'll be a real key if the Bears' receiver corps continues to be decimated by injury) and Jeremy Langford's continued strong play out of the backfield.
Defense: D+
Go ahead and point out that the second team defense looked solid again. The fact of the matter remains that the first team defense has a slew of holes and no realistic chance of filling any of them before the regular season begins.
We'll start with the secondary, which is poised to give up all sorts of passing yards to any quarterback with a semblance of a throwing arm. A.J. McCarron and Andy Dalton tore the Bears' cornerbacks to shreds in this game, and the safeties weren't helping either. Things were so dire that the Bears had Tim Jennings playing with the second string guys in the fourth quarter, leading some people to question whether or not he's going to be a starter when the season begins.
Add to that mix the injuries the Bears are dealing with on the line, with Jeremiah Ratliff out with an ankle injury and Eddie Goldman leaving the game with a concussion. Both of those injuries are bad because the Bears didn't really have a nose tackle anchor for this line to begin with, and now their top two candidates are both injured going into the final week of the preseason. Not ideal.
Finally, there are still questions about the linebacking corps that need to be answered. Their outside situation looks solid, with Willie Young and Lamarr Houston playing well and Jared Allen and Pernell McPhee solidifying their positions, but the big question revolves around the inside linebackers. Shea McClellin struggled in pass coverage on Saturday night, and while he made some good plays in the run game, he was also washed out of plays repeatedly by blocking tight ends, which isn't a good sign. Christian Jones also had a solid game, but he didn't get tested a lot in coverage.
An injury to Jon Bostic also hurts the Bears' depth at the position, and with their poor injury track record in other areas, expecting more players to end up hurt doesn't seem like a stretch.

Special Teams: C
The Bears' special teams were marked by tons of penalties and an inability to execute on simple plays in 2014, and while the latter has definitely been cleaned up this preseason, there are still way too many penalties being committed by this group.
The good news for the Bears is that they have several players who are really excelling for them in the special teams department. Marc Mariani looks really solid as a return man, and Senorise Perry is routinely making plays both on returns and in tackling situations. Terrance Mitchell also is doing some really good work for the team.