Most kids roll their eyes when their father or grandfather wax lyrical about seeing Willie Mays or Bob Gibson live -- and it's always baseball players too. I've yet to hear some octogenarian blather endlessly about seeing Y.A. Tittle at Wrigley Field or something.

But as I get older, I know there will come a day when I do the same about seeing Wayne Gretzky.
In my continuing series about the games that made me the drain on society today, it has come time to recall my first brush with The Great One: Feb.12, 1989 (I only recently learned the date. God bless you, HockeyReference.com).

I was only seven years old at the time, but I remember already being entranced by Gretz. Not that at that age would have I ever really had the attention span (or the accommodating bedtime), to fully watch Gretzky on the TV.

Maybe it was the kids floor hockey stick my parents got me that was adorned with his name and number a couple years earlier that started me on that path. I do recall watching some of the Final games he was involved in with the Oilers. And I knew he was the league's best player by some miles. At that point I couldn't have told you his stats or anything, I just had some loose grasp that he defined the sport.
Well, I didn't get to see him as an Oiler, but in his first year as a Los Angeles King. I remember hearing the news, but couldn't really comprehend it. At seven, you don't really understand the ideas of contracts and money and trades.

All I knew was the Oilers traded the best player ever to play, and that was just nonsensical. I would have cried for days had the Bears traded Walter Payton, even if he was asking to run the city in a new contract (which in hindsight, would have worked out well for both sides I think).

I very well may have become the world's youngest arsonist if the Cubs had traded Ryne Sandberg (not having any idea that the Phillies had already pulled this feat years earlier).

Your best players stayed where they were.
Either way, that didn't halt my excitement when my father informed me he was taking me to see the best the sport had to offer (my father had to take over the hockey duties when my brother left for college, and though he was no fan himself, he could already see that depriving his youngest son of hockey was going to cause headaches he'd rather not deal with).

Not only were we going, but we were getting a family friend's seats, which were about the 10th row behind the penalty boxes. You might know that family friend. He's former Comcast Sports Chicago reporter Josh Mora -- well, actually his dad -- but Josh and my brother were high school classmates. I had sat there once before, and as anyone can tell you, it's a different sport from that view, even if you're slightly terrified about getting domed by an errant puck.
Gretzky had a hat trick that day. I can't remember every goal, but even from that long ago I distinctly recall the way everything just slowed down when #99 had the puck. That's how you know when you're watching a great player, and it's unique to hockey (OK, maybe soccer too).

Whenever he was in control, the defense stopped, the crowd gasped, as if we were all resigned to the fact he was going to tear you apart with a move or pass and it was just best to watch it instead of trying to do anything about it and look more foolish.

Gretzky's patented move was to bring the puck over the blue line and then curl back around towards the boards. You see Patrick Kane do this all the time, as it allows the opposing defensemen to overrun him while allowing space for onrushing forwards and defensemen.

Every time Gretzky faced up again, you could see the panic. It was all in slow motion. He was playing a different game, always was. And only he could really see it.
It's hard not to be enchanted by someone doing his thing on a different plane. I've rushed to the stadium and United Center to see it again. Mario Lemeiux was capable, but I never saw it in person. Steve Yzerman could do it, but his game was different. In recent times I've hoped to see Sydney Crosby or Alex Ovechkin achieve it, but either through injury or ejection I haven't gotten to. Pavel Datsyuk gets there, but I hate his team so much it's hard to enjoy.
But it doesn't matter, no one will ever be #99 again.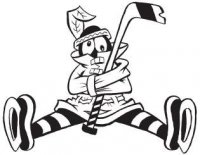 Sam Fels is the proprietor of The Committed Indian, an unofficial program for the Blackhawks. You may have seen him hocking the magazine outside the United Center at Gate 3. The program is also available for purchase online. Fels is a lifelong 'Hawks fan and he also writes for Second City Hockey .
Copyright FREEL - NBC Local Media