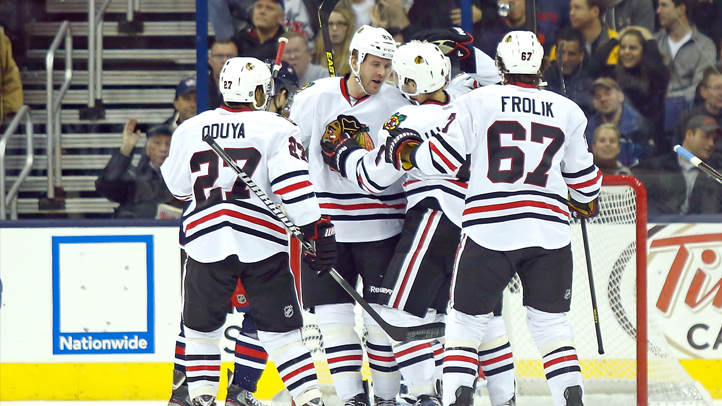 Even though the NHL trade deadline is still over three weeks away, the speculation over which teams will add what pieces has been raging ever since this shortened season began. Guys like Corey Perry and Ryan Getzlaf (who has already re-signed with Anaheim), Keith Yandle, Stephen Weiss (who succumbed to an injury and will miss the rest of the year), and many others have had their names bandied about, but so far, no major dominoes have fallen.
The Chicago Blackhawks could potentially be a team to benefit from an acquisition or two as the deadline approaches. They are still the favorites to win the Stanley Cup this year, and with some cap space to spare, they could be in the market for a rental player, or even something potentially longer in term thanks to their deep farm system.
Greg Boysen over at Second City Hockey has some thoughts on who the Hawks could be looking at, but there were two players in particular who stand out. One of them is Washington Capitals center Mike Riberio, and the other is winger David Clarkson of the New Jersey Devils.
Boysen describes Riberio as the "perfect "rent-a-player" to fill the second line center void." He will be a free agent at the end of the season, so the asking price by the Caps wouldn't likely be very high, and pushing Dave Bolland back down to the third line center slot could have several positive consequences. It would move Andrew Shaw back onto the wing where he belongs, and it would also give Patrick Sharp and Patrick Kane a serious playmaker to feed them the puck.
As for Clarkson, his role would be a bit more difficult to figure. Yes, he is a solid scorer, with 10 goals to lead the Devils in their first season without Zach Parise, but he also plays primarily right wing, a position the Hawks are already deep at. Theoretically, the Hawks could shift him or Kane over to left wing, especially if Sharp's shoulder injury continues to bother him, so he would at least be someone worth taking a look at for this team.
Either way, the Hawks are in a unique position among contending teams. They aren't hard up against the salary cap, they have plenty of young pieces to include in trades, and most importantly, they are eager to win another title this year. That mix could make them a huge buyer at the deadline, but a lot of that will depend on whether or not teams are selling.