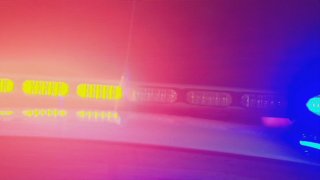 Suburban police are still searching for suspects in a shooting that occurred Monday morning in Huntley, and an armed carjacking that occurred in Bartlett that spawned a large-scale search that involved multiple drones and K-9 units.
For a period of just over two hours, residents were asked to remain indoors during the search, which targeted one of the two suspects that had fled the scene of an armed carjacking at approximately 5 p.m.
Authorities say that two suspects were involved in that carjacking, which took place in the 200 block of Miles Parkway.
The victim, sitting inside a 2000 Dodge Ram work truck, was threatened by the men, with what he believed was a firearm. One of the suspects fled the scene in the vehicle, while the other fled on foot.
It was that suspect, described as standing approximately 6-feet-1 inches tall that police revealed that they were searching for in Bartlett on Monday evening. Authorities asked residents to remain in their homes for approximately two hours during that search, but despite having drones and K-9 units at the scene, they were unable to locate him.
Meanwhile, the stolen Dodge truck was later recovered in Addison, Illinois.
Authorities in suburban Huntley said that the suspects were also wanted in connection with an early Monday shooting that left two men injured.
Authorities say that the suspects drove to the home and approached the front door, with gunfire ensuing shortly thereafter.
The suspects then fled the scene in a white, 4-door sedan.
Residents of the Wing Pointe subdivision are being asked to review doorbell and security footage for information that may help them identify the suspect.
The suspects remain at large, and the public is asked to call 911, or Bartlett police at 630-837-0846. Huntley police can also be reached at 814-515-5311, or at an anonymous tip line at 847-515-5333.