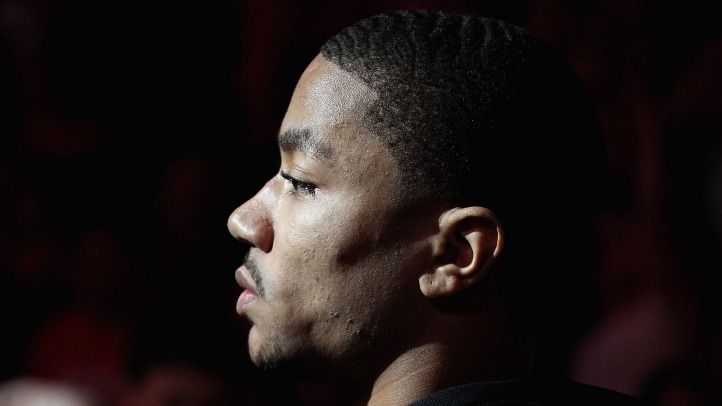 Derrick Rose dropped a bomb on Chicago and Bulls fans everywhere Tuesday when he told USA Today that he won't come back until he's "110 percent." When news of those words started circulating, it stirred up a range of emotions and also opinions on the 24-year-old superstar.
Some agreed with his decision and felt that it's up to him when he feels ready to come back. Others felt he should put the needs of the team before his own and take the court again as soon as possible so he can help the Bulls who could definitely use him, but the reality is they don't really need him right now.
Those initial quotes were just a small part of a wide-ranging interview with Rose, who for the first time talked about his fears, fatherhood and where he is mentally in his life after his devastating injury.
"My faith in God grew," Rose said. "Just believing more, I've been reading a lot more and having patience, man. You'll drive yourself crazy thinking you're gonna come back in one or two months and wishing you could come back that quick, but you gotta wait. With this injury, you've gotta wait five or six months before you can start running again."
Rose has been more visible at practice and before games taking shots, running and doing agility drills. As someone who's witnessed quite a few of these workouts, some days he looks phenomenal and others he looks like he still has more work to do. Despite that, Rose insists his knee has completely healed.
"The ligament, the tendon, everything is healed."
So why the 110 percent comment? After reading the article, it seems D. Rose is speaking more to his mental state than his physical, something Dr. Brian Cole said would be the biggest hurdle in his recovery.
"It's only me getting over that scared stage and just going out there and playing with that confidence, knowing I've been training six days a week and everything will be all right. ... It's just that like driving is totally different because the injury happened when I was driving."
Rose earned his reputation by being fearless in the way he attacks the basket. So getting hurt on the most routine play would be cause for trepidation and certainly understandable from his perspective. So while we're all anxious to see him don his No. 1 jersey, lace up his Rose 3.5's and get back on the court, we must also understand that no one is more anxious for that to happen than he is.
If Derrick Rose continues to be patient, then his fans and fans of the Chicago Bulls have to continue to be patient as well. There's no need for him to rush back until he feels he can be the same dominant player he was before he got hurt, and I personally wouldn't have it any other way.
Follow Outside Shot on Twitter (@Outside_Shot) for more Bulls news and information