Chicago ended the month of November with less than half the number of homicides it did last year.
Compared to November 2016, the city saw 54 percent fewer murders and a 47 percent decline in shootings, according to data released by the police department Friday.
For the year so far, that brings the city's total number of shootings down 21 percent with one month to go.
Despite the decline, the number of homicides in the city has already topped 600, a landmark number that has only been reached twice in the last decade.
Tribune data puts the city's tally at 624 homicides since Jan. 1. The Chicago Police Department reports 609 homicides altogether, but the department's statistics don't include killings on area expressways, police-involved shootings, self-defense killings or death investigations.
While the total number of homicides is lower than the city had at this time last year, it remains significantly higher than recent years.
The city has only crossed 600 homicides one other time since 2003, according to data from the police department.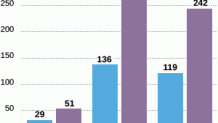 Last year, the nation's third largest city saw 762 homicides, the most in the last two decades and more than New York and Los Angeles combined.
That's compared to the 485 recorded citywide in 2015.
Recent months have seen a decline in the number of both shootings and murders compared to 2016, authorities said.
Still, more than 40 people were shot across the city of the long Thanksgiving holiday weekend, seven of whom were killed.