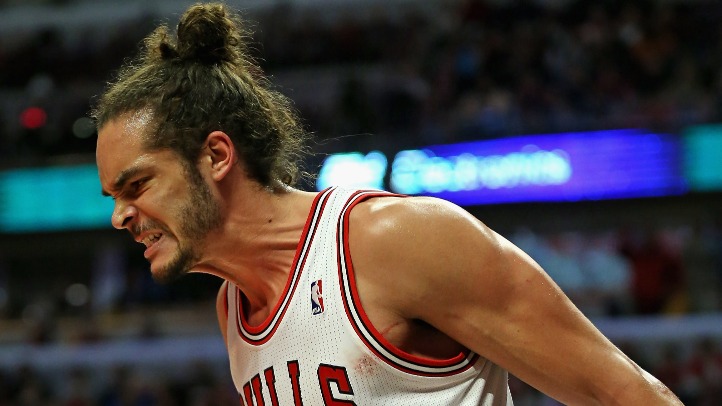 Desperately in need of a win, the Chicago Bulls went out on Thursday night and played with the passion and energy that had been missing in the last few games. The result: they handed the visiting Philadelphia 76ers a 93-82 loss.
Coming in the win for the Bulls was a career night from their All-Star center, Joakim Noah who logged a huge triple-double. His played seemed to spark his teammates who put the awful month of February in the rear-view mirror.
The Good
Joakim Noah (23 points, 21 rebounds, 11 blocks) wasn't just good; he was great. The big man had a career night in blocks, which also tied a Bulls record, and he registered his third career triple-double. He's only the fifth player in NBA History to notch a 20-point, 20-rebound game. His frontcourt partner, Carlos Boozer (21 points, 12 rebounds) was also a force in the game. Kirk Hinrich (15 points, six assists) didn't have the most efficient night shooting the ball, but his steadiness at the point was a huge asset for Chicago. The Bulls outrebounded the Sixers 53-47, outscored them in the paint 38-30, and had a 17-10 advantage in second-chance points. And thanks to Noah, Chicago was +7 in blocked shots, 15-8.
The Bad
The Bulls, despite winning the game, didn't shoot the ball well going just 39 percent from the field. The Bulls also only managed just 16 points from their bench.
The Ugly
Chicago shot just 3-14 (21 percent) from behind the three-point line in the game. The aforementioned Hinrich shot 5-15 from the field while Nate Robinson (nine points), who made some timely shots, only went 3-11 from the field. Marco Belinelli (six points) who got the start for Rip Hamilton who was injured shot 3-10 from the field.
Follow Outside Shot on Twitter (@Outside_Shot) for more Bulls news and information