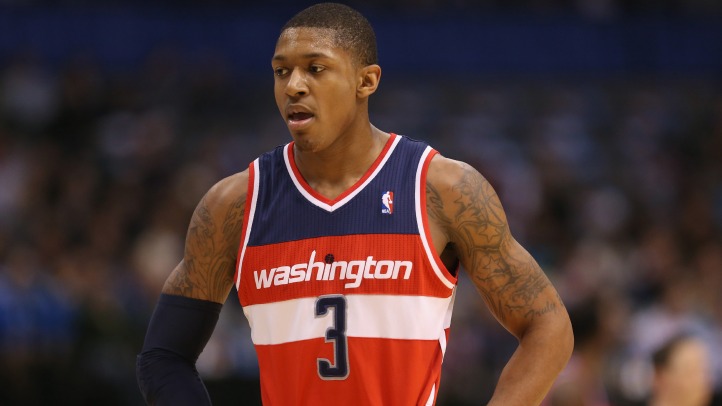 Derrick Rose sitting out the 2012-13 NBA season was one of the hottest topics in the league during the last 12 weeks or so. Many of the opinions were unfavorable, but Rose's teammates and many of his other NBA fraternity brothers supported his decision to take his time through the recovery process.
Washington Wizards rookie guard Bradley Beal doesn't seem to be one of those supporters. Beal appeared on a local Washington, DC-area sports talk radio show and gave his two cents on the Rose situation, according to the Washington Post.
"If you're practicing for two months and everybody in practice is saying you're practicing well, I figure you gotta give it a shot in a game. Look at David Lee. You don't have to play significant minutes, but the fact that you're out there and that you're actually giving it a go, I think people will respect that," said Beal who then fired this shot: "I don't know what was holding him back. I think he's scared."
Most people felt that Rose's issues were of the mental kind as opposed to the physical variety, but because we're not him, none of us are qualified to speak on what he should and shouldn't do. Beal goes on to say that if he were Rose's teammate, his decision to sit out this year would've caused him to lose some respect for D. Rose.
"A little bit. Yeah, I would," Beal said. "The type of player he is, and the mentality and competitiveness that he has, I think he would have gave it a go. … But you're never the same after an injury. But you just have to fight through it and do something else to be able to impact the game."
The Wizards rookie also stated that even though he knows the seriousness of an ACL injury, he's never had one and says the ultimate decision on whether to play or not is up to Rose himself.
After this season, some may feel that Derrick Rose is soft, but he's never been one to take kindly to trash talk (just as Philadelphia 76ers guard Evan Turner). Bradley Beal may find that out the hard way next season.
Normal 0 false false false EN-US JA X-NONE /* Style Definitions */ table.MsoNormalTable {mso-style-name:"Table Normal"; mso-tstyle-rowband-size:0; mso-tstyle-colband-size:0; mso-style-noshow:yes; mso-style-priority:99; mso-style-parent:""; mso-padding-alt:0in 5.4pt 0in 5.4pt; mso-para-margin:0in; mso-para-margin-bottom:.0001pt; mso-pagination:widow-orphan; font-size:12.0pt; font-family:Cambria; mso-ascii-font-family:Cambria; mso-ascii-theme-font:minor-latin; mso-hansi-font-family:Cambria; mso-hansi-theme-font:minor-latin;} Follow Outside Shot on Twitter (@Outside_Shot) for more Bulls news and information