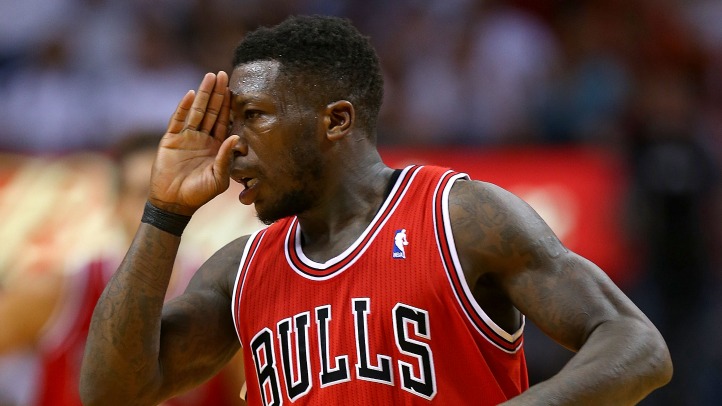 As has been their M.O. all season, the Chicago Bulls fought until they couldn't fight anymore. The 94-91 loss to the Miami Heat exemplified their 'never say die' attitude and even LeBron James called it the toughest closeout game he's ever played in.
But none of that matters now. The Heat are advancing to the Eastern Conference Finals, again, and the Bulls are going home early for the summer, again.
But despite the disappointment of being eliminated by the Heat for the second time in three years, the Bulls have nothing to hang their heads about because looking back, they shouldn't have even gotten this far. And to say this team overachieved in 2012-13 would be an understatement.
A brand new roster, no Derrick Rose all year, and injuries that plagued key players late in the season would've been enough to knock any team on their backs; but not these Bulls. They consistently displayed a toughness and grit that earned them respect across all of the NBA because no matter the odds, they never stopped fighting against them.
Tom Thibodeau, while not the best minutes manager in the league, proved once again why he's one of the NBA's elite coaches. No one could've done what Thibs did with this team this year and there isn't another coach who gets maximum effort from his team each and every time he sends them out on the floor.
Shamefully, none of those points would end up being the storyline of the Bulls season this year. No, it was all about Derrick Rose and his decision to take his rehab slowly as opposed to rushing himself back on the court before he felt ready to play. Opinions were split down the middle between support and admonishment for D. Rose and the conversation around his decision to sit out the entire year totally overshadowed how well the team played in his absence.
The emergence of Jimmy Butler, Joakim Noah making his first All-Star team and Nate Robinson basically saving the season in more ways than one, was merely a footnote and took a backseat to "Rose bashing" for the most part. However, the reality is that what happened to D. Rose this season – in terms of the negative public perception – is an unfortunate part of sports.
If an athlete doesn't do what we think they should do, then we kill them for it, figuratively. But this Bulls team deserves to be applauded for all they accomplished in the face of what would ordinarily be insurmountable odds, and did things many people didn't expect them to do: like finish above .500 for the season and in fifth place in the Eastern Conference, or get by the Brooklyn Nets in seven games and then beat Miami in the first game of the semifinals.
These things should have been celebrated more instead of spending every Bulls conversation locked in on Derrick Rose.
Who knows how this team will look next season as the front office has some difficult choices to make in the coming months. But for they way they fought each and every night and for the pride they displayed representing the "Chicago" emblazoned across their jerseys, the 2012-13 campaign was a successful one in a lot of ways and it's a campaign that every Bulls fan should feel pride in.
Normal 0 false false false EN-US JA X-NONE /* Style Definitions */ table.MsoNormalTable {mso-style-name:"Table Normal"; mso-tstyle-rowband-size:0; mso-tstyle-colband-size:0; mso-style-noshow:yes; mso-style-priority:99; mso-style-parent:""; mso-padding-alt:0in 5.4pt 0in 5.4pt; mso-para-margin:0in; mso-para-margin-bottom:.0001pt; mso-pagination:widow-orphan; font-size:12.0pt; font-family:Cambria; mso-ascii-font-family:Cambria; mso-ascii-theme-font:minor-latin; mso-hansi-font-family:Cambria; mso-hansi-theme-font:minor-latin;} Follow Outside Shot on Twitter (@Outside_Shot) for more Bulls news and information