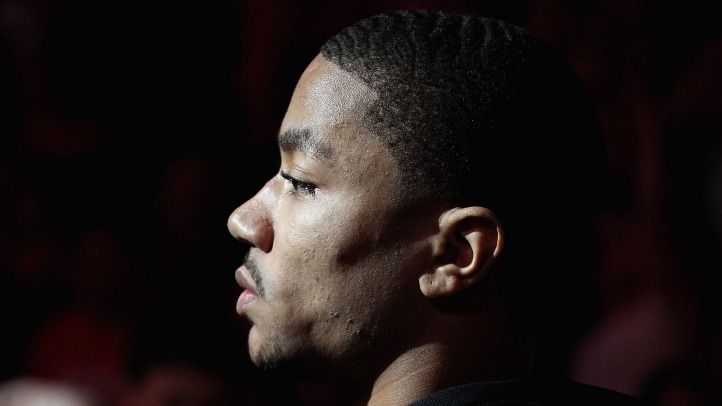 Taj Gibson sat in his locker staring down at his iPhone Saturday night, right after the Bulls beat the Brooklyn Nets at the United Center. "Ricky Rubio played tonight?" he asked. "What did he have?" referring to the point guard's stats.
Checking the box score from the Minnesota Timberwolves game, I read Rubio's line to Gibson: 8 points, four rebounds, nine assists and three steals.
"Man," said an astonished Gibson. "And he had his surgery like two months before D. Rose."
When you first heard that Ricky Rubio was back on the court Saturday night, just nine months after tearing his ACL, if you're a Bulls fan, your first thought was on Derrick Rose and when he'll be back running with the team again.
You probably checked to see when Rubio injured himself and compared it to the date of Derrick's injury to establish a general time frame – in your mind at least – of when the Bulls superstar could come back.
January? February? That certainly seemed to be what Taj was doing.
But according to K.C. Johnson of the Chicago Tribune, Tom Thibodeau said Rubio's return has no bearing on when Derrick will be back.
"I don't think it has really anything to do with Derrick because I think each guy is different and separate," Thibodeau said. "But I'm happy to see it for him. Ricky is a terrific player. And you hate to see anybody go down with that type of injury."
Thibs is right: Rubio and Rose are two totally different players.
Rose overpowers opponents with his size, strength, speed and athleticism. Rubio relies on his craftiness and savvy to succeed. That said, the two players use their lower bodies much differently so you can understand why any sort of comparison wouldn't be worthwhile.
Still, seeing Rubio back on the court is kind of like free-agency when a player signs his contract which then sets the market for the rest of the unsigned players at his position. Nine months isn't a very long time and we're just now past the seven-month mark from when D. Rose had his knee surgery.
So don't feel bad if Rubio has you anxiously looking forward to seeing Derrick back on the court soon. It's natural.
Whether or not that actually happens, of course, is a different story in itself. The head coach and the front office set a return timetable for Derrick, anywhere between eight and 12 months. Both parties have steadfastly stuck to that time frame and continue to preach patience with Rose's rehab.
"Derrick is doing fine," Thibodeau said. "We just have to be patient and let him keep doing the things he's doing. ... Once he starts doing more in practice, then he'll be with us more. But right now, the focus still has to be on his rehab and the things that he needs to do."
Follow "Outside Shot" on Twitter (@Outside_Shot) for more Bulls news and information.