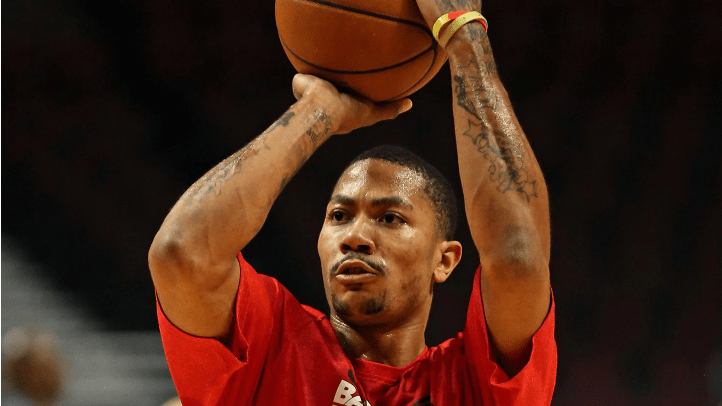 On Sunday, courtside reporter Doris Burke gave Bulls fans some new information about Derrick Rose. The superstar has been feeling a "burning" sensation in his hamstrings after his 5-on-5 practices with teammates that he's been participating in for just about a month.
It's the second time the fan base has been given "new" information about D. Rose that hasn't come from a local news outlet or the Chicago Bulls themselves.
Rose has been medically and physically cleared to play again, but the return is on hold because the Chicago native doesn't feel he's mentally in a place to take the court. This has caused a bevy of opinions to flow forth, some in support of Rose making his own decision on when he should play again, while others feel that if doctors say he can play, then he should play.
But no matter which side of the argument you sit, it's becoming clear there is a strong possibility we may not see Derrick Rose at all this season. If you add the burning feeling in his hamstrings to Rose's insistence on not coming back until he can dunk off his surgically repaired knee – in stride – and the fact the Bulls have just 19 games remaining on the regular season schedule, then the hopes of D. Rose making a comeback seem pretty slim at this point.
This is not to add any sort of "doom-and-gloom" to fan optimism, but the reality is the window in which Derrick Rose can not only return but also work his way back into being effective on the court, has become increasingly small. Some have suggested the playoffs would be a great time for Derrick to make his comeback, but is that really the environment you want to see a player coming off major knee surgery?
Probably not.
Fans of Rose and the Bulls have latched on to "The Return" campaign and were looking forward to their superstar coming back this season and "saving" a team that has already overachieved at this point. Being seven games over .500 and in fifth place in the East with a brand new roster and devoid of a superstar isn't a bad spot to be.
But the key thing to remember is that D. Rose can't come back to the Bulls for "our" sake. If he comes back this season while he still doesn't feel 100 percent certain that he can perform at a high level and – God forbid – gets hurt again, then what?
The franchise would be set back a number of years, fans would bemoan the $95 million contract extension he signed, but more importantly, the player that we know as D. Rose would probably be no more. Is that really worth it? Not for me, it isn't. I don't want to see Derrick Rose play basketball again unless he's the player I saw at Simeon, Memphis and in his time with the Bulls.
And no one else should, either.
Follow Outside Shot on Twitter (@Outside_Shot) for more Bulls news and information