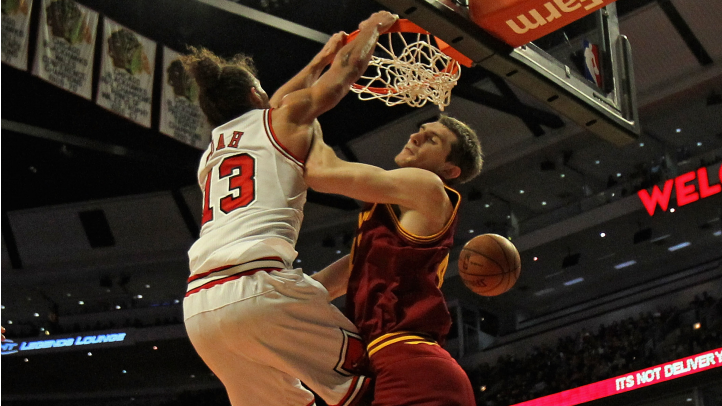 The Chicago Bulls put on an impressive display of basketball Monday night against the Cleveland Cavaliers, throttling the visitors 118-92. But before we get too excited, let's keep in mind that Chicago has defeated the 8-28 Cavs in 10 straight contests.
Coming off an impressive road win over the Miami Heat and after terrible losses to end 2012, the Bulls seem to have hit a stride that we've not seen from them all season. Ironically enough, the last time the Bulls had a win streak of three games this season, it started with a win over Cleveland.
Perhaps this is the start of some positive momentum for the team in the month of January.
The Good
The Bulls finished the game with six players in double-figures. That almost never happens. Carlos Boozer (24 points, 11 rebounds) continues to be the spark offensively for Chicago and had another good game. His frontcourt partner, Joakim Noah (11 points, 11 rebounds), was solid with the double-double and Luol Deng (19 points, five rebounds, seven assists) played well also. Tom Thibodeau got stellar production off the bench as Nate Robinson (14 points, seven assists), Taj Gibson (18 points, seven rebounds) and Marco Belinelli (15 points, five assists) all had great games and the Bulls reserves outscored their Cavs counterparts, 50-34. Chicago was a +16 in the rebound column (47-31), +18 in points in the paint (54-36), +15 in assists (34-19) and led by as many as 30 points in the game. They also shot lights out going 54 percent from the field, 71 percent from the three-point line and 83 percent from the free-throw line. The Bulls also scored 23 points off the Cavs 16 turnovers.
The Bad
Outside of the Bulls trailing 30-22 in the first quarter, there wasn't a whole lot of "bad" on Monday night. Of course, turnovers continue to be an issue as Chicago committed 20 of them against Cleveland.
The Ugly
Kirk Hinrich (6 points) and Rip Hamilton (8 points) really struggled against the youthful Cavs backcourt of Kyrie Irving (15 points, six assists) and rookie Dion Waiters (15 points). The Bulls duo combined to shoot 5-11 from the field, which isn't terrible, but it is when you consider they're a starting backcourt in the NBA on a playoff team. That's when it becomes worrisome.
Follow "Outside Shot" on Twitter (
@Outside_Shot
) for more Bulls news and information.