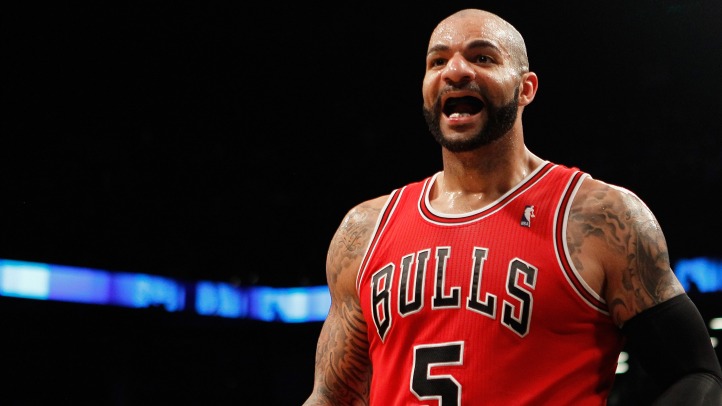 A funny thing happened with Carlos Boozer during the 2012-13 season: you didn't hear many Bulls fans complaining about him and screaming, "amnesty Boozer!" In fact, there really wasn't a whole lot to complain about.
Boozer played the most games (79) of any player on the roster while averaging 16.2 points, 9.8 rebounds and 2.3 assists while shooting 48 percent from the field and 73 percent from the free-throw line. His playoff averages were similar as well with 16.4 points and 9.6 rebounds while shooting 49 percent from the field, even though his free-throw percentage and assists were down slightly.
The 11-year veteran notched 44 double doubles during the regular season and six in the Bulls 12 playoff contests.
His penchant for having a great regular season and then coming up short in the postseason seemed to go away, too; at least for a time, anyway.
He dominated in Chicago's first round series against the Brooklyn Nets where he averaged 17.4 points and 11.6 rebounds in seven games. However, against Miami, he struggled as his numbers dipped to 15 points and 8.2 rebounds per.
But that drop off in production may have a lot to do with Kirk Hinrich being sidelined due to injury and Tom Thibodeau being forced to start Nate Robinson at the lead guard spot. Hinrich was much better at getting Boozer touches and keeping him involved during the game as opposed to Robinson who is naturally more of a scorer than a traditional point guard.
At this stage of his career, Carlos Boozer is what he is: a jump-shooting big man who can still rebound but has lapses on defense. He can still put up big numbers on a lot of nights and his strengths will usually outweigh his weaknesses. He still has two years remaining on his contract and if he can continue to play as he did this year, fans still probably won't love him, but they certainly won't hate him either. #holdat
Grade: A-
Normal 0 false false false EN-US JA X-NONE /* Style Definitions */ table.MsoNormalTable {mso-style-name:"Table Normal"; mso-tstyle-rowband-size:0; mso-tstyle-colband-size:0; mso-style-noshow:yes; mso-style-priority:99; mso-style-parent:""; mso-padding-alt:0in 5.4pt 0in 5.4pt; mso-para-margin:0in; mso-para-margin-bottom:.0001pt; mso-pagination:widow-orphan; font-size:12.0pt; font-family:Cambria; mso-ascii-font-family:Cambria; mso-ascii-theme-font:minor-latin; mso-hansi-font-family:Cambria; mso-hansi-theme-font:minor-latin;} Follow Outside Shot on Twitter (@Outside_Shot) for more Bulls news and information