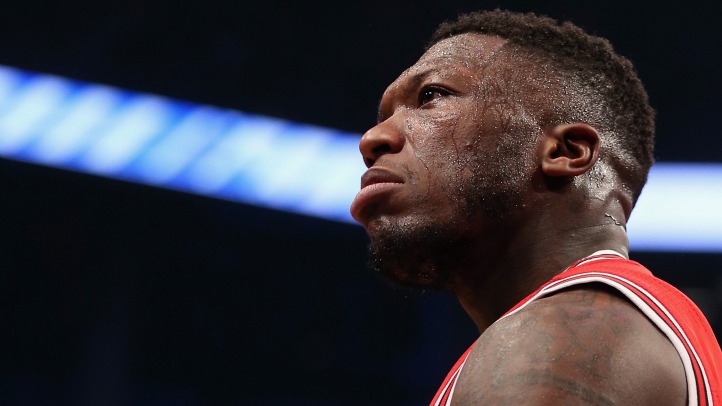 With Game 6 being played on the United Center floor, the Chicago Bulls have a great opportunity to do what they couldn't in last season's playoffs: Get out of the first round without Derrick Rose.
After taking a 3-1 series lead against the Brooklyn Nets, Chicago couldn't close things out in Game 5 on Monday night. Making matters worse, Kirk Hinrich was forced to sit with a left calf injury and didn't practice with the team on Wednesday.
So what's it going to take to put away the Nets? Well, if Kirk Hinrich can't play, it looks like lots and lots of Nate Robinson.
For a guy playing on a non-guaranteed contract, at times, Robinson has been the Bulls most important and sometimes, best player on the floor. His heroics in the triple-overtime classic in Game 4 will go down in history as one of the all-time great performances by a player in a Bulls uniform.
And the team will need more of his heroics on Thursday night if they're going to finally set their date with the Miami Heat, but the diminutive guard will have to make some subtle changes to his game if that's going to happen.
Robinson started his first ever playoff contest in Game 5 and nearly helped the Bulls steal the victory, but that also came with a price. He took 19 shots in the game which decreased the touches of Carlos Boozer and Luol Deng who have also played well in this series.
If Hinrich can't go and Robinson gets the starting nod in Game 6, he has to do a better job of facilitating and getting his teammates the ball, putting them in position to score. Obviously, the Bulls have to make other improvements as well such as rebounding the ball, playing better defense and continue to shoot a high percentage (as a them Chicago shot 49 percent in Game 5) by getting good looks.
But with regard to Nate Robinson, being a facilitator early has to be the game plan for him before he starts looking for his own offense. The last thing the Bulls want is to lose at home and have to face a Game 7 back at the Barclays Center.
Follow Outside Shot on Twitter (@Outside_Shot) for more Bulls news and information