A fomer Hawk, as much as some would like to forget that he was one, is getting a big honor today. Chris Chelios will enter the U.S. Hockey Hall of Fame, which will be a precursor to his election to the Hockey Hall of Fame a year or two down the road. But the U.S. one is apt, because Chelios will probably go down as the best US-born defenseman of his time.
Hawks fans will always have a goofy relationship with Chelios. There's little question that he's one of the two best d-men to ever suit up in the black and red (along with Doug Wilson). He was the defniition of a captain, sometimes to his detriment as there wasn't a fight or argument he wouldn't take up. He took some selfish penalties, but he also was a rock that the Hawks could always count on. He did everything on the ice, and left several body parts out there. The fact that he went through an entire playoff with a broken foot tells you just about everything you need to know.
But there was the acrimonious exit to Detroit, who he said he never play for when he was in the middle of his Chicago days, and being a Chicago boy. But Chelios didn't get a say in it, he was traded. Hawks fans are probably just more upset about how that awful trade of an icon was the perfect symbol of how the Hawks were run those days, how our prodigical son had to go to Detroit to get the trophies he wanted so badly here. But then he took that Cup to Wrigley, rubbed our noses in it, and maybe that's why he was booed so heavily on his Heritage Night.
That was a sad occasion that should have never happened. Chelios was a great Hawks, and if the organization had just waited a year or two, those wounds would have healed, and Chelios would have gotten the adulation he most certainly deserves. Far too rushed.
What's also fitting is that Chelios will go into the U.S. Hall with his longtime defensive partner Gary Suter. Suter was underrated as a Hawk, being the best rushing defenseman the Hawks had after Wilson left. He had a cannon of a shot, was no shrinking violet either. It'll be good to see Suter and Chelios together again.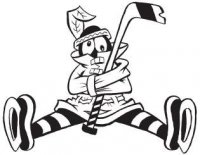 Sam Fels is the proprietor of The Committed Indian, an unofficial program for the Blackhawks. You may have seen him hocking the magazine outside the United Center at Gate 3. The program is also available for purchase online. Fels is a lifelong 'Hawks fan and he also writes for Second City Hockey .