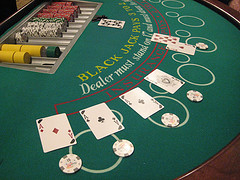 A man caught counting cards at a blackjack table who was consequently banned from the casino just got some unexpected support from Indiana Governor Mitch Daniels.
Retired computer programmer Thomas Donovan admitted to counting cards in 2006 at the Grand Victoria Casino and Resort at Rising Sun, reports The Courier-Journal.
Card counting is a strategy some players use to track what cards have been played, thereby determining their probability advantage. Card counting (without an outside device) is completely legal, but casinos often ban known card counters from their premises, in what they say is an effort to maintain good business.
The casinos, which are private businesses, are allowed to refuse business to anyone, as long as it is not based on discrimination.
But Governor Daniels said Saturday in a commencement speech at Franklin College that he's on Donovan's side.
"Donovan's sin in the casino's eyes is not that he is inordinately lucky, it's that he's inordinately smart," Daniels said, according to The Courier-Journal. "He has taught himself to count the cards as they are played, then constantly and quickly to calculate the odds on his winning the next hand. In a game where luck still plays a large part, Donovan has, through hard work, learned to improve his chances."
Donovan wanted to inspire the students, explaining the difference between luck and wise choices.
The Indiana Supreme Court heard arguments in a lawsuit Donovan brought against the casino last month. A ruling is expected later this year.
Matt Bartosik is a Chicago native and a social media sovereign.
Copyright FREEL - NBC Local Media