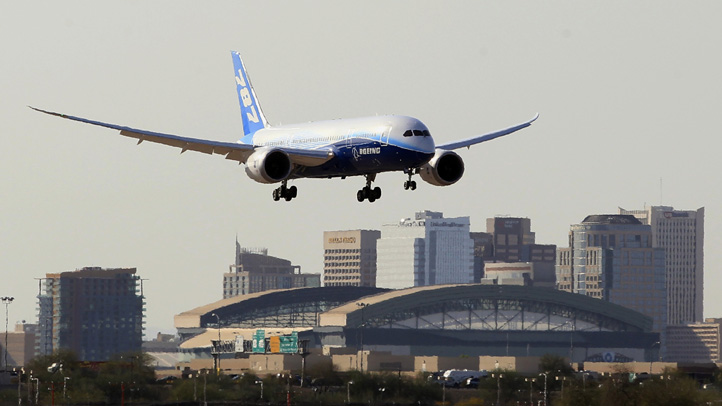 Boeing is raising its 20-year prediction for worldwide airplane sales to 34,000 jets, enough to double the size of the world's fleet, as more people travel in China, India, and other emerging markets.
The Chicago-based airplane maker and defense contractor predicted on Tuesday that $4.5 trillion worth of planes will be sold. It will have to compete with Airbus and other competitors including Bombardier, Embraer, and China's state-owned COMAC for those sales.
The projection is 500 planes higher and a half-trillion dollars more expensive than the previous year's estimate. Boeing expects airlines to shift toward slightly larger planes with higher price tags, accounting for most of the additional spending.
The world's airlines fly almost 20,000 planes today. That number is expected to rise to almost 40,000 by 2031, Boeing said.
Boeing and Airbus are both speeding up production to meet a growing order backlog. Airbus, based in France, announced on Monday that it will begin assembling A320s in Alabama, with deliveries to begin in 2016. Boeing is speeding up production of its competing 737.
Boeing said the Asia Pacific region will be the biggest market for new planes, with a potential for 12,030 aircraft there through 2031. The next biggest market is Europe with 7,760, and North America with 7,290.
Tinseth said low-cost airlines are stimulating demand for air travel. Those airlines have been especially important in Asia, because they're making air travel affordable for people who previously didn't fly. Boeing predicted that global airline traffic will grow 5 percent a year for the next two decades.
China's expanding light rail service will steal some passengers from the airlines, Tinseth said. But the investment in rail as well as new airports should stimulate the economy there and air traffic — and demand for airplanes — will still grow, he said. The company expects half of all airline traffic to begin or end in the Asia Pacific region by 2031, up from 35 percent today.
"'As we look to the future, clearly the center of the marketplace will be the Asia-Pacific region," Tinseth said.
Boeing predicted that more than 23,000 of the 34,000 planes that will be sold will be single-aisle planes such as its 737 and the competing Airbus A320. It also predicted sales of 7,950 larger planes such as its new 787. Sales of each would total around $2 trillion, because the bigger planes cost more.
Tinseth said Boeing is aiming to build about as many of the single-aisle jets as Airbus. For the larger wide-body jets, he thinks Boeing can have a larger market share than Airbus does.
The Chicago company reduced its projection for the number of freighter airplanes that will be sold. It says the cargo market remains sluggish. It predicted 940 new freighters would be needed, and another 1,820 passenger planes would be converted to haul freight.
Europe will be another wild card. A deep recession would hurt air travel, and the financial crisis could make it harder for airlines to borrow to buy planes.
Tinseth said Boeing expects the European economy to be challenging for this year and next, with "a more normal condition" in 2014.
"We do at times suffer through difficult times, but the market responds and rebounds very quickly, and we think the situation we see in Europe will be no exception to that," he said.
Boeing does a detailed annual study of airline travel and sales trends. Airlines order planes years in advance, so Boeing has to make production decisions years in advance, too.
Shares of Chicago-based Boeing Co. rose $1.09 to close at $74.27. They are trading near the high end of their 52-week range of $56.01 to $77.83.
Copyright AP - Associated Press