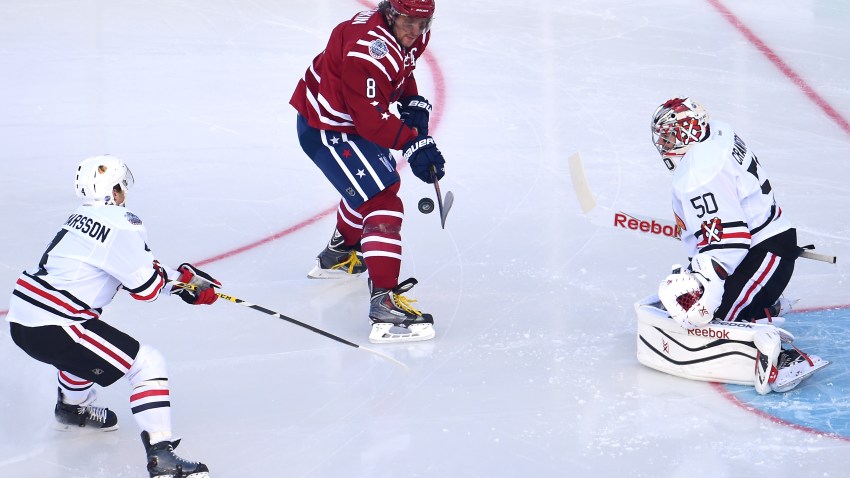 After a 3-0 shutout loss at the hands of the Philadelphia Flyers on Wednesday night, the Chicago Blackhawks will look to rebound on Thursday when they battle the Washington Capitals in the nation's capital.
For the Blackhawks, the game will represent not just another opportunity to get back in the win column, but a chance to figure out how to assemble their line combinations. Wednesday's game against the Flyers turned into an "all lines in the blender" kind of game, with Joel Quenneville repeatedly switching things up to find a combination that works.
The big question so far this season has been surrounding which player will skate with Jonathan Toews and Marian Hossa on the top line. Everyone from Teuvo Teravainen to Andrew Shaw to Ryan Garbutt has gotten a chance to skate on the line, and none of them have been able to stick so far.
That inconsistency has prevented the Blackhawks from balancing their lineup and getting scoring from multiple places, and it's putting an increased strain on the second line of Patrick Kane, Artemi Panarin, and Artem Anisimov.
As the Hawks prepare to take on the Capitals, they are going to have to make some serious decisions as to which direction the team will go with that first line winger spot. Will they install Teravainen in the role to add stability, at the expense of making the third line into a secondary checking line? Will Shaw or Bryan Bickell ascend to the role to maintain balance, but with the cost being not having a true scorer with Toews and Hossa?
Quenneville's moves against the Capitals will show his line of thinking on the matter, so it will be interesting to see which direction the coach is leaning as he looks to get things sorted out.
Other Notes:
-Wednesday's loss to the Flyers marks the 12th consecutive regular season defeat the Hawks have suffered in the city of Brotherly Love. That does not include the 2010 Stanley Cup Final, when Patrick Kane's game-winning goal gave the Hawks their first championship in 49 years.
-Scott Darling will get the start in net for the Blackhawks in the second-half of back-to-back games.
-The Capitals will start Braden Holtby in net against the Blackhawks. In his career against Chicago, Holtby has a 3-1-0 record with a .914 save percentage and a 2.96 goals against average in four starts.
Bryan Bickell has been held without a point in his last 10 games, including last year's postseason.