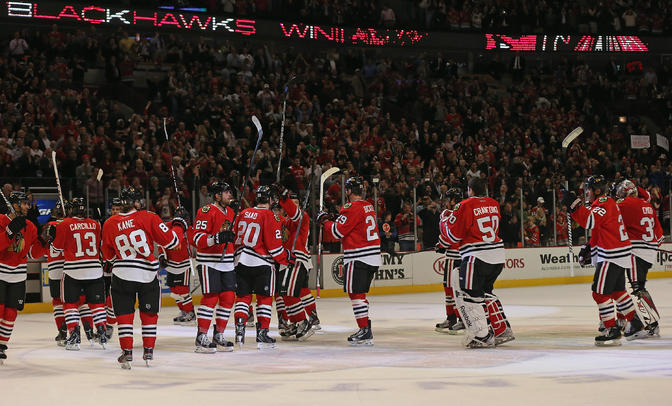 In less than two minutes, the Chicago Blackhawks did all the damage they needed to do.
Brandon Saad had two goals and an assist and Dave Bolland scored twice in the Chicago Blackhawks 7-1 win over the Detroit Red Wings on Sunday.
"Especially these early games, it's nice to get off to a good start," Saad said. "We got a couple of bounces and got a couple of goals and it was nice to play with the lead."
Jonathan Toews added a goal and two assists and Jeremy Morin and Nick Leddy, also scored for Chicago. Cory Crawford made 33 saves.
"Contributions from everybody. It certainly helps when you get a quick start like that right off the bat," Blackhawks coach Joel Quenneville said.
Cory Emmerton scored Detroit's goal. Jimmy Howard was pulled in favor of Jonas Gustavsson early in the second period. Gustavsson made nine saves.
Chicago led 3-0 at the end of the first period after scoring on its first three shots in a 1:39 span in the game's first four-and-a-half minutes.
Morin, who was recalled from the minor leagues on Saturday, opened the scoring when he put one in from a goal-mouth scramble at 2:33. Saad capitalized on a breakaway off left wing to beat Howard, for his fifth goal of the season, 48 seconds later and Bolland was credited with his first goal of the game, at 4:12, when Detroit defenseman Jakub Kindl accidentally flipped the puck into his own net while trying to clear it from the crease.
"We didn't play hockey tonight whatsoever. It's tough when you spot them a few goals right away from the start," Red Wings' defenseman Niklas Kronwall said. "You did a big hole for yourselves and we couldn't find a way to get back. It was embarrassing at times."
The Red Wings didn't manage a shot until 7:15 into the game and Detroit defenseman Brian Lashoff hit the goal post with a little under two minutes left in the opening period.
"We wanted to have a good first period," Toews said. "We were glad to put up a lot of goals early. But we knew we couldn't let up."
Toews and Saad scored eight seconds apart early in the second period for a 5-0 lead.
Toews got his 17 goal, at 3:52. That sent Howard to the showers and Saad collected his sixth goal of the season at 4:00, on the first shot on Gustavsson.
Bolland's second goal of the game and seventh of the season came 7:55 into the third. Leddy got his sixth goal, with 3:39 left. Emmerton thwarted Crawford's shutout bid with 33 seconds left.
Copyright AP - Associated Press