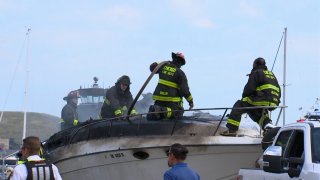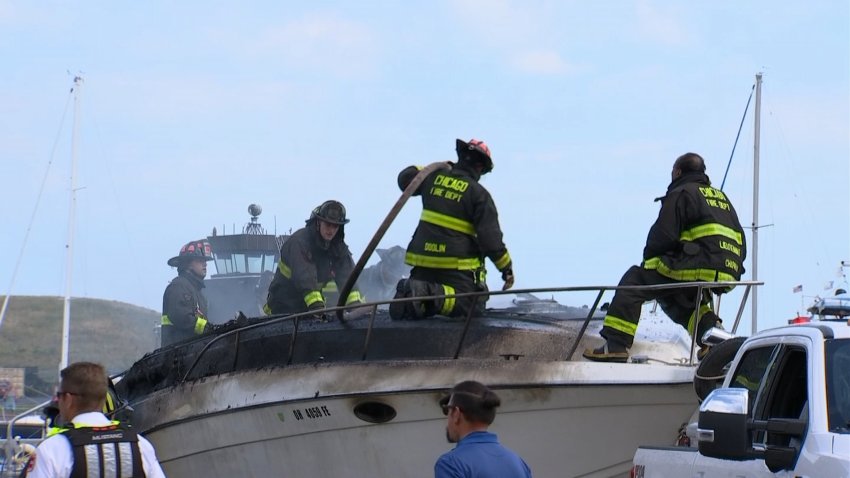 At least one person was injured Saturday after a boat caught fire at Burnham Harbor, prompting a large emergency response and creating a large plume of smoke in the air, Chicago fire officials said.
According to officials, the boat caught fire near Chicago's Museum Campus early Saturday afternoon. One person was injured in the blaze, and was transported to Northwestern Memorial Hospital in red (serious-to-critical) condition.
Following the incident, at around 3 p.m., thick black smoke could be seen in the air around Lake Shore Drive. Witnesses told NBC 5 a man was trying to launch a boat when the fire started.
"This guy was having boat issues next to us, so one of the guys on our boat was trying to help get it started," said Claude Radovanovitch, witness. "And we had a bad feeling when we were out on the water when we saw the black smoke. Kinda had a feeling it was him."
Another witness said he noticed the large response while on his jet ski.
"I saw the fire department, the boats, like the helicopter...it was just crazy," said witness Jergis Rahmoun. "Piles of smoke."
The cause of the fire remains under investigation. The injured man was taken to Northwestern Memorial Hospital and is expected to survive his injuries.