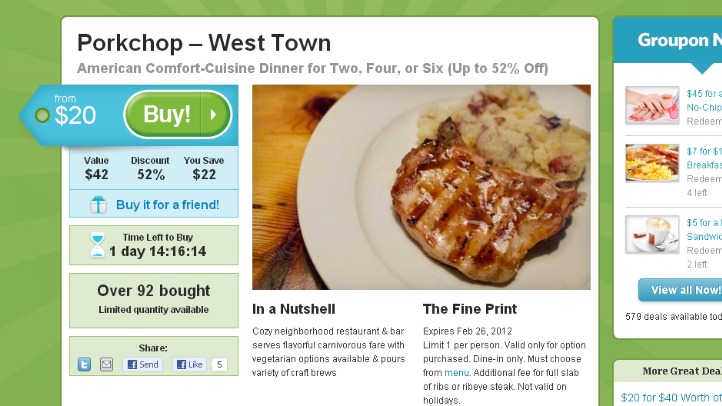 There's been a heaping helping of speculation about where exactly Groupon's price per share would fall in its IPO during the last few weeks.
Groupon was flip-flopping on whether the stock prices would range between $16 to $18, but early discussions Thursday indicate "people familiar with the matter" are suggesting it would rise to $19 to $21 per share, according to CNBC. The price will be set after the final bell Thursday and some thing it could swell from $16 to $21. If that happens, Groupon could be worth nearly $13 billion.
For those keeping track, that would be slightly higher than Google's offer for $6 billion that Groupon infamously turned down last year.
But it'd still be a stretch to say Groupon's got it made in the shade. At best, its megalomaniacal empire is showing cracks. In an analysis published Thursday, the Wall Street Journal reports that Groupon China has "yet to show a profit... Lashou lost $60.5 million in the first half of the year... [It's] an unprofitable business, in a competitive market, with an uncertain regulatory environment."
Ouch.
Meanwhile, as Groupon's IPO is finally becoming a sobering and uncertain reality, it's bringing out the snark aplenty in the media. Thus, to offer a bit of levity, enjoy this rogues' gallery of headlines all around other publications driving home the point that all isn't well in Castle Groupon:
What, nobody thought of tweaking the name of Howie Mandel's wonderful but short-lived game show, Deal Or No Deal?