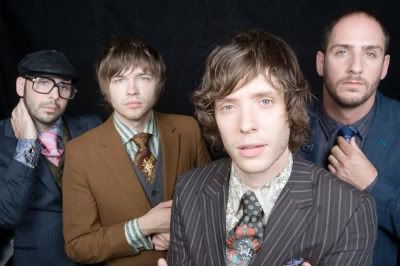 Photo via the band's MySpace.
What's better than a day full of Chicago's own power pop rockers OK Go? There's certainly no shortage of opportunities to see them today. This afternoon, they're handing out burritos to the homeless along with volunteers from Inspiration Corporation. If you'd like to help out, head over to OKGo.net for more information (you'll have to be able to meet up at noon and bring your own burritos). The band will even take you out to lunch before you hit the streets.
Not able to make it out at noon? No worries! OK Go will be doing an in-store performance at the Michigan Avenue Apple Store at 4 pm. I'm a big fan of in-store performances at Apple because they have platform seating so you'll have a good sight-line no matter how far back you are. Unfortunately, I'll still be stuck at the office at 4 pm. If you're caught in the same situation, do not fret! The band will be performing again tonight at the Double Door, as part of the venue's 15 Year Anniversary series. If you're an OK Go fan, you pretty much have no excuse to not see them today.
The Double Door is located at 1572 N. Milwaukee Ave. Tonight's show is 21+ and starts at 9 pm. Tickets are $20 and can be purchased here. U.S. Royalty opens.
Copyright Trans - Transmission