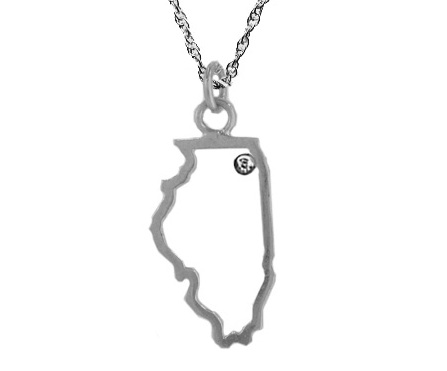 Blago may have tarnished our reputation as of late, so you might be feeling like you need to show your home state some love. But who wants to be decked out in head-to-toe Illinois gear? For an understated bit of boastful bling, check out the state-shaped pendants from California-based jewelry designer Maya Brenner.
The celeb darling, whose clean-lined designs have been featured on TV shows and in fashion mags galore, has created outlines of all 50 states in the Union, as well as a clever bicoastal version featuring a mini apple and a California contour side-by-side (what, no Illinois-Wisconsin or Illinois-Michigan hybrids?). All we can say is, at least Illinois has a bit of a figure -- check out Colorado, Kansas and poor Wyoming. They give new meaning to the word "square." Our favorite state (aside from the Land of Lincoln, of course) has to be Rhode Island -- it looks like a platform boot. (Italy's got nothing on you, Ocean State!)
You can request a small diamond to be placed anywhere on the "coast" of your pendant (did we mention Brenner is from California?), although we're guessing the upper right-hand corner of Illinois is the most popular placement on our great state. (No disrespect, Cairo.)
Brenner's state-shaped pendants are available in sterling silver and 14-karat gold and range from $100-$300.
Copyright FREEL - NBC Local Media