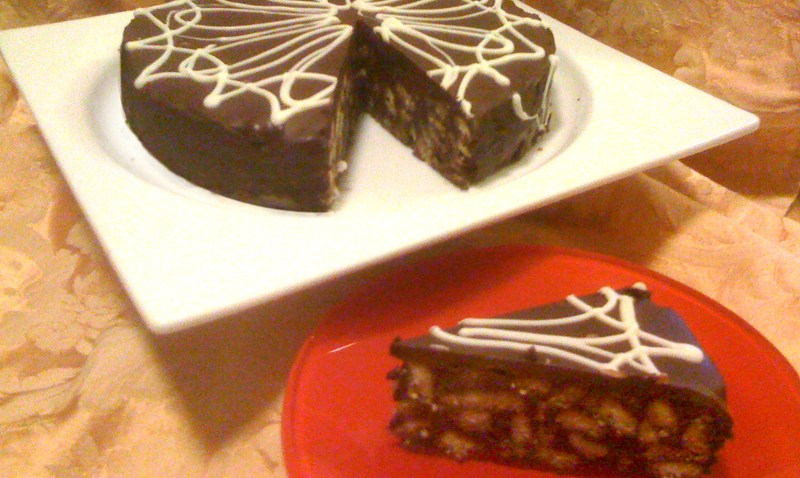 Since we won't be in England for the royal wedding, having a wedding party at your home with friends is the next best thing. From my take on the groom's chocolate biscuit cake to scones and cucumber sandwiches, here are some recipes that will make your party a truly royal event.

Chocolate Biscuit Cake

8oz box Salerno Butter Cookies
3oz 70% Cacao Extra Bittersweet Chocolate
3oz Semi-Sweet Chocolate
4oz Unsalted Butter
1/2 cu Granulated Sugar
1 Pasteurized Egg, room temperature
1/4 cu Heavy Cream, room temperature

Icing

4 oz 70% Cacao Extra Bittersweet Chocolate
4 oz Semi-Sweet Chocolate

Decoration

1 oz While Chocolate

Equipment

6" springform pan, or 6" baking pan with a removable bottom
Wax Paper or Parchment Paper
1 tbl Butter or Cooking Spray

Method

Break butter cookies into small pieces, about the size of a penny. Set aside.

Line the bottom and sides of your baking pan with wax paper or parchment paper. Butter the paper or spray it with cooking spray and set aside.

Melt the 3 ounces of bittersweet and 3 ounces of semi-sweet chocolate in a double boiler until smooth. Add butter and sugar and stir until well incorporated. Whisk together egg and cream in a small bowl. While stirring chocolate, gradually pour in egg mixture. Stir until mixture thickens slightly, about 2 minute. Stir cookies into the mixture to coat all the pieces. Immediately pour ingredients into prepared pan. Move the pieces about so that you fill in all the spaces, especially on the bottom since you'll be inverting the cake to ice it. Place cake in the refrigerator for 3 hours.

After cake has cooled, remove it from the baking dish and invert it onto a wire rack. Place the wire rack over a parchment paper lined baking sheet. Melt the 8 remaining ounces of chocolate in a double boiler until smooth. Transfer the melted chocolate to a medium bowl and allow it to cool and thicken slightly, about 20 minutes, stirring occasionally. Pour chocolate over cake and smooth the top and sides using a spatula. Let the icing harden at room temperature. Slide the cake off the wire rack and onto a serving plate, tucking any raw edges icing under the cake.

Melt the white chocolate in a double boiler or the microwave and transfer to a small sealable plastic bag (or small piping bag). Cut a small section off one corner of the bag and then create a pattern on the cake by squeezing the icing through the small hole. Refrigerate until ready to eat, but let the cake rest at room temperature for 30 minutes before slicing and serving.

Spicy Chicken Salad Tea Sandwiches

Ingredients

9oz pkg Pre-Cooked, finely chopped
1 Jalapeño Pepper, seeded and chopped
1 Celery Stalk, minced
2 tbl Fresh Cilantro, roughly chopped
1/4 cu Yellow Onion, minced
2 Garlic Cloves, minced
1/2 cu Seedless Red Grapes, halved
1/2 cu Mayonnaise
1 tsp Freshly Ground Cumin
1/2 tsp Salt
1/3 tsp Pepper
Slices of Pumpernickel Bread

Method

Using a 2" cookie cutter, cut 48 pumpernickel bread circles and place them in a sealable plastic bag until ready to use. Combine remaining ingredients in a large bowl. Spoon about 1 tablespoon of filling onto a pumpernickel bread disk and top with another. Refrigerate sandwiches until ready to serve. You can also skewer each sandwich with a toothpick and a small grape tomato for presentation.

Cucumber Tea Sandwiches

Ingredients

I lg English Cucumber, peeled and sliced
1/2 tsp Salt
1/4 cu Cider Vinegar
Whipped Cream Cheese
Fresh Dill
White Bread

Method

Place cucumbers in a medium sized bowl and add salt and vinegar. Refrigerate for 1 hour. Remove from refrigerator after and hour and drain. Place cucumbers between layers of paper towel and pat dry.

Spread cream cheese on two slices of white bread. Overlap about 9 slices of cucumber on once slice. Sprinkle with fresh dill and then cover with the remaining slice. Cut off the crusts of the bread and then slice into three long "fingers" sandwiches and serve. Quantity will depend on the size of the cucumber and the thickness of your slices

Scones

Ingredients

2 1/2 All-Purpose Flour
1 1/2 tsp Baking Soda
1 1/2 tsp Baking Powder
1 tsp Salt
3 oz Cold Butter, cut into small cubes
1 lg Egg
1 1/4 cu Buttermilk
2 tbl Sugar
I cu Mixed Dried Fruit (optional), soaked in water for 10 minutes and drained

Method

Preheat oven to 350 degrees F.

In a large bowl, sift together flour, baking soda and baking powder. Add the sugar and salt and stir to combine. Work butter into the flour mixture your hands by rolling the floury butter between your thumb and fingers until mixture resembles the texture of breadcrumbs. Add fruit (optional). Stir the egg into the buttermilk and then pour over the flour mixture. Fold with a spatula until ingredients are just combined.

Put about 1/4 cup of flour on a work surface and transfer mixture onto it. Knead the dough slightly and then gently roll it out to about a 1" to 1 1/2 " thickness. Cut out scones with a 2 1/2" fluted cutter. Dip the cutter in flour so that dough cuts clean (that will help scones rise evenly). Transfer the scones to a baking sheet with a spatula. Bake for 12-15 minutes or until golden brown. Serve warm with butter, jam and heavy cream.

If you have any questions or comments, send me an email at wayne@waynesweekend.com or follow me on Facebook.