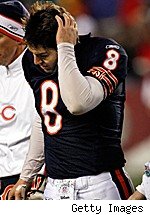 DJ Augustin has been a bright spot on a Chicago Bulls team plagued by injuries and bouts of ineffectiveness on the floor. The former lottery pick has been a godsend to a team desperately in need of a competent floor general that can make shots and get his teammates involved considering Derrick Rose was injured back in November, Kirk Hinrich's propensity for being hurt, and Marquis Teague's overall lack of development.
Tom Thibodeau has the utmost confidence in the latest addition to his roster and as a result, Augustin has flourished.
"As a basketball player, the more minutes you play, the more you're out there on the floor, you can get a rhythm. It's hard to come into a game, play three or four minutes, and then you're out. It's tough, I don't care who you are," Augustin said to CSN Chicago, referencing his struggles in both Indiana with the Pacers and with the Toronto Raptors. "But when you're out there feeling comfortable, playing freely, just playing basketball, you feel good. Coach has done a good job giving me confidence, running plays for me, and my teammates have been doing the same."
Thibodeau, known for giving new players to his system short leashes, has quickly recognized Augustin's ability to pick things up quickly and then go out and execute them on the court.
"He's a very bright kid. He fit in right from the start. He was learning on the fly. He has great instincts, very good pick-and-roll player, very good in transition, he can shoot the ball and is a good leader, so we're excited to have him. He's done a terrific job and he's a good fit for us," said Thibodeau. "I knew D.J. for a long time, so I think I had a pretty good read on him because when you're going against him, I always felt he was a hard guy to game plan for and he had already shown that he was capable of playing well in the league, so I think sometimes when you have a guy like that, you keep files and when they become available, if the opportunity presents itself, then you hear things, too. I know people who have coached him, how they felt about him, so I knew that he had great character, very smart and I liked those characteristics."
Augustin has also earned the respect of his teammates.
"He's big-time. Big-time professional, great teammate. He's one of the best point guards in this league," said Taj Gibson.
"He's a good fit. He makes the right play all the time. The right pass, big shots. He can really shoot the ball. He's been big for us," said Joakim Noah.
As for Augustin, as much as he's enjoying his newfound opportunity in Chicago and earning the respect of his coach and new teammates, he wants to keep that good will going by doing whatever it takes to help the Bulls wins.
"All I'm thinking about right now is going out every night and just playing hard," he said. "Whatever Thibs runs, whatever plays he runs, I'm just trying to run it and do the best I can."