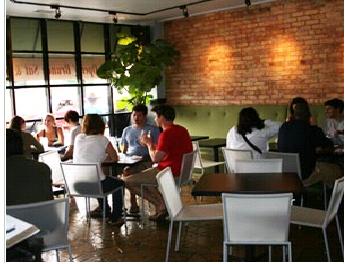 As first reported by 312 Dining Diva, Lakeview's Shochu (3313 N. Clark St.) has closed to be reopened as Deleece Grill Pub, a concept much more similar to the owners Lynne Wallack's and John Handler's long-lasting Deleece at 4004 N. Southport Ave.
The new grill pub shares the similar casual elegance that has been so successful for Deleece, but the primary focus will be on grilled burgers and steaks and comfort-food sides like mashed potatoes, hand cut fries, potatoes au gratin, onion rings, bacon potato salad, bacon-rosemary stuffing and more. From among the eight steaks on the menu, choose from a 14 oz. New York strip smothered with grilled onions and white cheddar, and an 18 oz. ribeye with a garlic porcini ragout. Mmm, just in time for the cold weather.
And to do their part to help out the American economy, Deleece Grill Pub is keeping their libations list American-made with American craft brews and American whiskeys.
For those who enjoyed the three-course meal for $20 on Sunday and Wednesday nights at Shochu, not to fear – that deal will remain intact in the reconcepted restaurant.