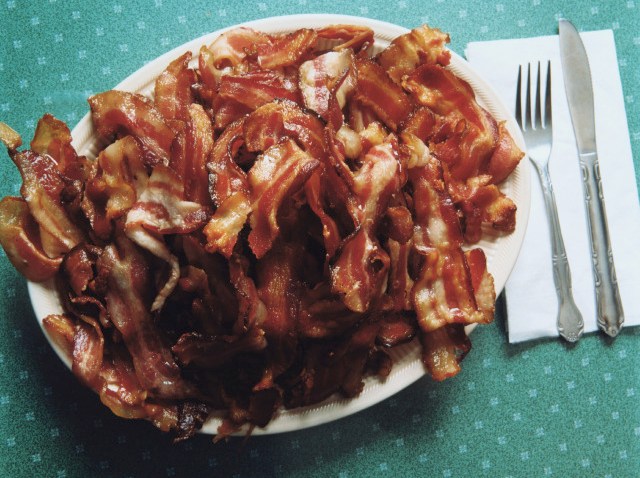 PROFESSIONAL BACON: Adding bacon to any meal makes it a million times better, like salad and bacon bits. If you like hogging out on these tasty treats, then head to the Publican, which is hosting Baconfest's "VIP Pro Cookoff." 845 W. Fulton Market; West Loop. Saturday. Noon to 3 p.m. $77.87.
MY ACHING BACK: Guillermo del Toro's Spanish Civil War ghost story (a predecessor to "Pan's Labyrinth"), "The Devil's Backbone," screens at Facets as part of the venue's Fright School horror movie series. The film follows 10-year-old Carlos as he tries to adjust to living in an isolated orphanage after his father's death. But things get stranger when the ghost of a dead orphan pesters Carlos over a mysterious, impending doom approaching his newfound home. 1517 W. Fullerton Ave.; Lincoln Park. Saturday. 11:55 p.m. $5.
DIRTY CARTOONS: Local cartoonist Ivan Brunetti might be known to some as a frequent cover artist for The New Yorker, but he also has a rep for creating the most screwed up single-panel cartoon strips imaginable. Brunetti stops by Third Coast Comics for a signing in support of his latest collection of strips, "Ho! The Morally Questionable Cartoons Of Ivan Brunetti." 6234 N. Broadway St.; Edgewater. Saturday. 4 p.m. to 9 p.m. Free.
HAPPY B-DAY: Chicago-based punk rockers Lawrence Arms celebrate their 10th anniversary at the Metro. Openers include The Menzingers, La Plebe, and Mike Park. 3730 N. Clark St.; Wrigleyville. Saturday. 5:30 p.m. $16. All ages. Sold out.
MY WIZARD SCAR BURNS FOR YOU: Hogwarts is the kind of school that Chicago Public Schools CEO Ron Hubberman is probably glad he doesn't have to put up with, what with the constant attacks from the Death Eaters, that drugged-out looking Voldemort, and the PTA parents who'd throw a shit storm over Dumbledore's sexual orientation. Witness what a public-school nightmare this school is in the latest film adaptation of J.K. Rowling series, "Harry Potter And The Half-Blood Prince," which screens at Doc Films. 1212 E. 59th St.; Hyde Park. Saturday at 6:30 p.m. and 9:30 p.m., and Sunday at 3:15 p.m. $5.