Paul Deanno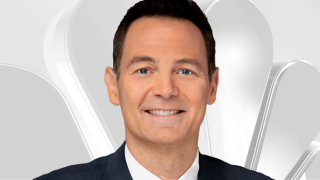 Meteorologist Paul Deanno joined the NBC5 Storm Team in October 2019 and currently forecasts Chicago weather on NBC5 News at 11:00 am and 4:00 pm.
Paul has won five Emmy Awards for his work as a broadcast meteorologist in some of the largest television markets in the country. He is also the first broadcast meteorologist present the weather on all three network morning newscasts: Good Morning America (ABC), The Today Show (NBC), and CBS This Morning.
This journey started for Paul when he was 10 years old. That's when his school took a tour of a television studio. Enamored with the energy of the newsroom, Paul started announcing high school football games and his school's morning announcements. After graduating from Syracuse University with a degree in broadcast journalism, Paul chose weather for his career path and re-enrolled in college with a focus on broadcast meteorology.
Deanno's career has literally spanned the globe covering the weather. He's flown with the Hurricane Hunters, hiked deep into Glacier National Park to investigate global warming's impact on the ecosystem there, and he's broadcasted from the middle of the Atlantic Ocean onboard the USS Enterprise aircraft carrier for a report on how the military creates its forecasts.
Paul's favorite part of his job, however, is spending time with students at local elementary schools. That's the place where he has the most fun sharing his passion for the weather. That's also the reason why Paul started researching the amazing weather facts he used in his first book, "WOW! Weather!". The series now includes books on snow and hurricanes.
Before joining NBC5, Paul worked in San Francisco as the Chief Meteorologist for KPIX-TV. He also worked at TV stations in Seattle, Miami, Philadelphia, San Antonio, and Spokane.
Feel free to send Paul an e-mail and share your favorite weather photos with him!
Connect with Paul on Social Media:
Twitter @PaulDeannoNBC5