Across the Chicago area, residents woke up to measurable snow this weekend.
A Winter Storm Warning was issued for Lake County in Indiana, as well as a Winter Weather Advisory for Porter County, both in Indiana until 4 p.m. Sunday.
Here's a look at some of the latest snowfall totals across the area as of Saturday morning, according to the National Weather Service:
Winter Storm Warning Continues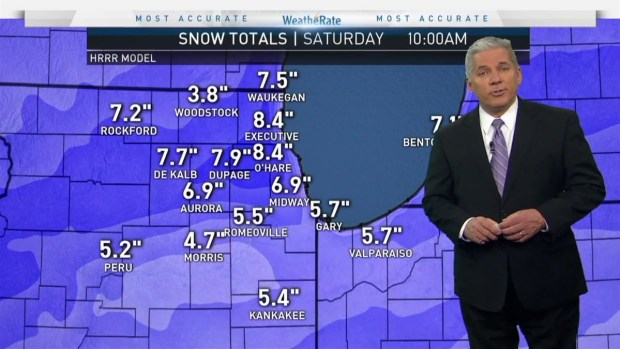 Cook County
Chicago (Southeast) 7 inches
Evanston 6.5 inches
Lansing: 3.5 inches
Midway Airport: 1.5 inches
Mount Prospect 5.5 inches
Oak Forest: 6.5 inches
O'Hare Airport 5.0 inches
Palatine 8.5 inches
DuPage County
Downers Grove 6.0 inches
DuPage 6.0 inches
What Does Lake-Effect Snow Actually Mean?
Kane County
Batavia 5.2 inches
Elburn 6.9 inches
Elgin 6.5 inches
Lake County
Buffalo Grove 7.9 inches
Gurnee 7.9 inches
Highland Park 8.8 inches
Lake Zurich 7.1 inches
Libertyville 8.5 inches
Lindenhurst: 7 inches
Mundelein 7.5 inches
Volo 5.8 inches
Waukegan 9.1 inches
McHenry County
Algonquin 9.0 inches
Bull Valley: 5.5 inches
McHenry 9.0 inches
Wonder Lake: 7 inches
Woodstock 5.7 inches
Will County
Joliet: 4.3 inches
Mokena: 4.1 inches
Peotone: 4.0 inches
Plainfield 3.3 inches
Romeoville 4.1 inches