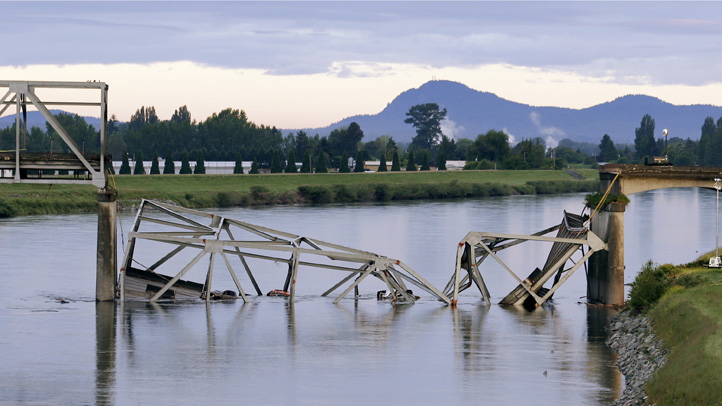 A preliminary report from the National Transportation Safety Board on the May 23 collapse of a bridge on Interstate 5 over the Skagit River in Mount Vernon, Wash., indicates the driver of an oversized truck which rammed the bridge thought the truck was shorter than it actually was.
The NTSB says the driver told them that as another truck passed him, he felt "crowded" and moved his vehicle to the right. The top of his load collided with the overhead and side braces of the bridge, causing collapse of the northbound span.
The driver reportedly told investigators that he thought the height of his load was 15 feet, 9 inches. But the oversized truck had a pilot vehicle accompanying it across the bridge. The driver of that vehicle said a "clearance pole" mounted on the front of her vehicle was set at 16 feet, 2 inches.
The lowest portion of the bridge was determined to be 14 feet, 8 inches.
Two passenger vehicles, a Dodge Ram pickup towing a trailer and a northbound Subaru Crosstrek, were on the bridge span at the time of the collapse. All vehicle occupants were rescued from the river.

NTSB Report: