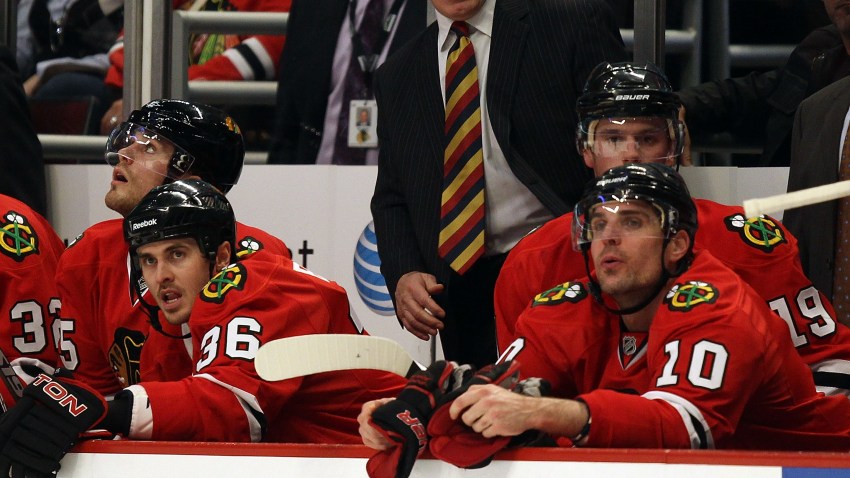 I've spent a great amount of time this season bemoaning the Hawks players' shortcomings on the ice or in between the ears.

It's easy to do because it's the easiest to see and analyze. But clearly all is not well in the places we can't see: in the coaches room and the front office.
A couple weeks ago, there were some muted calls for Coach Qunneville's head. Under different circumstances, maybe that would make more sense. But a coach coming off a Cup win and who just signed new paper isn't going anywhere, especially when Rocky is paying Cristobal Huet $5.5 million to ski in Switzerland.

But the sentiment behind those calls are not without merit. There are a couple problems with Coach Q's style and tactics this season.

First off, the unpredictability of the Hawks effort from game to game. We could all live with an off-night here and there, it's a very long season. But the Hawks have showed up and looked at their watch the entire game far too many times this year, and one could make the argument that speaks to motivation and inspiration from behind the bench.

Second, one can get the impression the players are sick of the knee-jerk line juggling that takes place seemingly between every game. Look at their quotes sometime and you'll see them littered with things like, "It's nice to play with the same guys for a while."

There is no question that Dave Bolland's recent emergence is partly due to having Fernando Pisani and Bryan Bickell on his wings for a over a month now. Everyone knows where everyone will be.

Thirdly, Q's treatment of young players can come into question. While Viktor Stalberg and Jack Skille certainly have not lived up to what we think they can be at times, early in the year they were yanked at the slightest hint of a mistake.

The early part of the season should have been about letting these players grow so we can get a better idea if their long-term answers instead of shattering their confidence and having them playing on pins and needles.

Maybe they're simply what they are, but they could have been handled better. They've both had to sit in favor of John Scott and Jordan Hendry replacing them at forward, which is like trying to replace a flat tire with a bagel.
Above Quenneville, GM Stan Bowman has some questions to answer, too. The signing of John Scott and retention of Nick Boynton, when compared with Philly's thrifty signing of the actually effective Sean O'Donnell just boggles the mind. Ryan Johnson was brought in for no discernible reason. Nick Leddy's contract clock has been started only because Stan couldn't find a proper solution for the third pairing when there were some available, and now he's closer to free agency while having his development stunted with 10 minutes of ice time a night and not really contributing much to the team.

This team has needed a move to shake it up for a while, and Stan has either been unable or unwilling to pull the trigger. Premier GMs find a way.

But mostly where Stan has been stepping in it is the places you can't see. Rockford is a mess.

Top pick Brandon Pirri was pulled out of school after his freshman year and is apparently lost in the AHL, according to friend of the program Chris Block of The Third Man In.

The full 50-man roster, much like the 40-man roster in baseball consisting of all the people you have under contract, has been filled up, so a player like Jamie Langenbrunner who only cost a mid round draft pick could not be added. He's also filled up the quota of veterans you can have on your AHL team, so Johnson and Nick Boynton can't be sent down to save cap space.

Rockford has nine d-men, and there are some there who need the playing time, and they won't get it.
Bowman's record is spotty at best. The deal of Cam Barker to Minnesota for Kim Johnsson and Nick Leddy still looks good, and it looked better before Johnsson's brain turned to mush. He did about as well as he could in the summer purge, picking up Jeremy Morin who looks like a real prospect. But he had Marty Reasoner, who would have been a fine fourth line center who could kill penalties and win a draw, and dumped him off for reasons we can't really understand.

If he could have predicted how the Antti Niemi situation would have sorted out a little better, Andrew Ladd may still be here, or at least Brent Sopel might be.

Final grades aren't in on Bowman yet, but there's lots of work to be done if he's going to get valedictorian status.