Like anyone, especially bloggers, I like to be right. Sadly, it happens maybe three times a year, so it's a real wonder why anyone lets me write anything for anybody. But at least this week, I feel like I got one in Viktor Stalberg.
I liked Stalberg from the moment the Hawks acquired him. That was partly because I didn't think the Hawks could get any actual piece for Kris Versteeg in what was in essence a straight salary dump. So the fact that a real live, warm body was returned probably skewed my perspective a bit
But I'd seen Stalberg with Toronto. You couldn't help but notice the speed. I'd read the blogs, and Leafs fans' hopes for Stals. Then that concussion in his rookie year crushed all that.
What's satisfying about Stals's emergence this month is that he had to earn it. Coach Quenneville always gave him the carrot that if he played well, played the right way he would get his shot on the top lines. He always balanced that out with demoting him when his play dropped. Sometimes it would frustrate us, and Stalberg, but complacency isn't a good thing. But the sheer amount of times that Q promoted Stalberg to play with Toews indicated that's where he wanted Stalberg, that's where he thought he belonged.
Fans would get so frustrated with Stalberg, due to a lack of finishing chances he would create and at times a lack of physicality from his large frame. Those weren't unfair. But with Stalberg's speed, you have to believe that for the hands and brain to catch up is a challenge. So Stalberg slowed his feet. The game just comes to him now instead of chasing it.
And now he's using that speed in the directions it should be, instead of in all the directions it shouldn't. He uses that speed to chase down defensemen behind the net like a lion snaring an antelope. That creates turnovers and skittishness. He uses that speed to beat players to the net. You saw all of it on his goal against San Jose. He harassed Doug Murray in the corner, combined with Toews to outwork others, then raced to the net ahead of everyone else to be open for a pass.
Vik could easily go back into another slump. He still gets unobservant on defense at times. But for now, it's heartening to see a player who got a lot of abuse from Hawks fans in full bloom.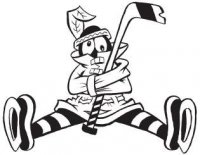 Sam Fels is the proprietor of The Committed Indian, an unofficial program for the Blackhawks. You may have seen him hocking the magazine outside the United Center at Gate 3. The program is also available for purchase online. Fels is a lifelong 'Hawks fan and he also writes for Second City Hockey .