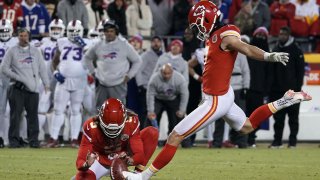 It's only fitting that the Chiefs and Bills will be settled in overtime.
Harrison Butker nailed a 49-yard field goal as regulation time expired to send the divisional round matchup into OT.
It capped off a wild final two minutes that saw three lead changes and 25 combined points.
It started with the Bills, down 26-21, driving 75 yards on a drive that lasted 7:01. Josh Allen connected with Gabriel Davis for a 27-yard touchdown on a fourth-and-13 to give the Bills the lead. A successful two-point conversion that followed made the game 29-26 with 1:54 left.
But the Chiefs answered immediately. Patrick Mahomes hit Tyreek Hill for a 64-yard catch-and-score to give the Chiefs back the lead with 1:13.
The Bills then drove down 75 yards in six plays, ending with another Allen-to-Davis touchdown, this one coming with 13 seconds left.
The 35-yard score was Davis' fourth of the game, a first in NFL postseason history.
But all the Chiefs needed was two plays to drive 44 yards and get Butker into field goal territory for the tying kick